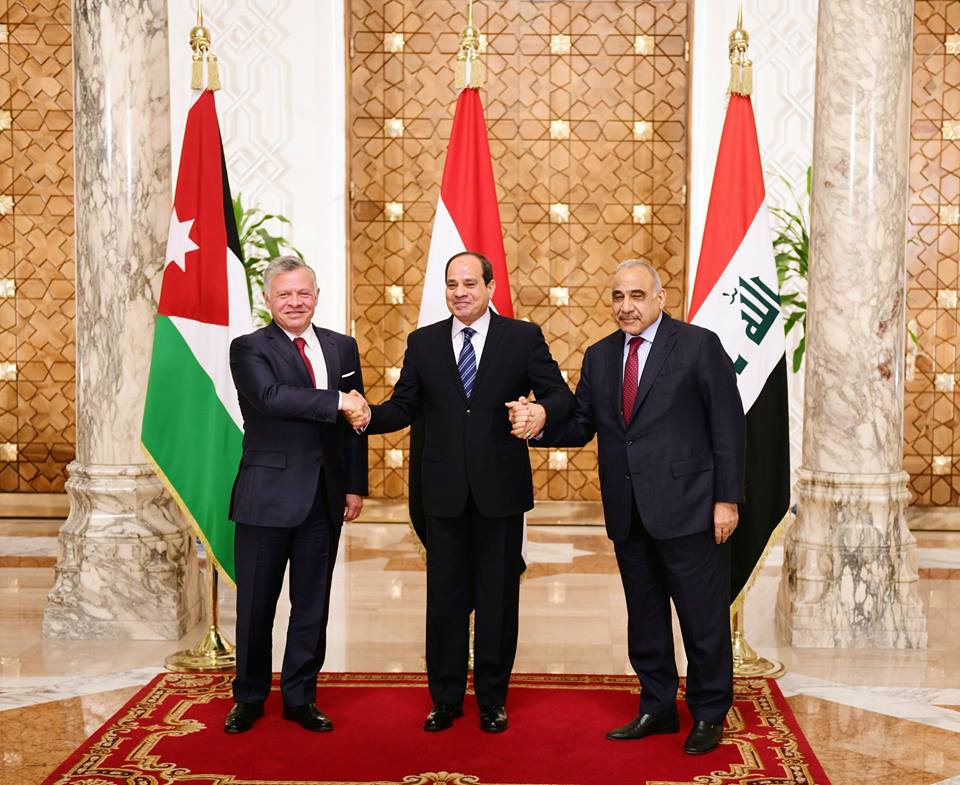 A tripartite summit was held in Cairo on Sunday by President Abdel Fattah al-Sisi, King Abdullah II of Jordan and Prime Minister of Iraq Adil Abdul Mahdi to ​​discuss cooperation, coordination and integration between the three countries.
The three leaders issued a final joint statement that valued the historical relations between their countries, stressing the importance of working to enhance cooperation between them and to take advantage of the potential offered by their geographical locations and strategic and economic interests.
The statement also stressed on the historical, social and cultural ties between the three nations.
The leaders reviewed the latest developments in the region, stressing their determination to cooperate strategically with other Arab countries to restore stability in the region and find solutions to the crises plaguing a number of Arab countries.
They also expressed support for the Palestinian people to have all their legitimate rights, including the establishment of a state with East Jerusalem as its capital, in accordance with resolutions of the international community.
The importance of combating terrorism in all its forms was also stressed during the meeting, including confronting all those who support terrorism through funding, arming or providing safe havens and media platforms for terrorists.
They praised the victory of Iraq in its battle against the Islamic State (IS) and the sacrifices made by the Iraqi people to reach this point.
The leaders also praised the end of IS caliphate, stressing their full support for Iraqi efforts to complete reconstruction, return displaced Iraqis to their hometowns, and ensure they would receive their rights in accordance to the UN Security Council resolutions.
The three leaders emphasized the importance of intense and coordinated action to strengthen institutions of the modern national states in the Arab region, as these serve to safeguard against the dangers of fragmentation, terrorism, sectarian divisions, and interference within the internal affairs of Arab countries.
The three leaders further discussed a number of ideas to enhance economic integration and cooperation between the three countries, including the promotion and development of joint industrial zones, cooperation in energy, infrastructure, reconstruction and other development sectors, as well as increasing trade exchange, promoting mutual investment and developing cultural cooperation.
They agreed on the importance of meeting periodically to cooperate on positions and policies among the three countries in order to realize the interests of their people in stability and economic prosperity, achieving common goals through cooperation with friendly countries and building balanced international relations.
The leaders of the three nations have set up a working group to follow up on applying the results of the summit.
Edited translation from Al-Masry Al-Youm