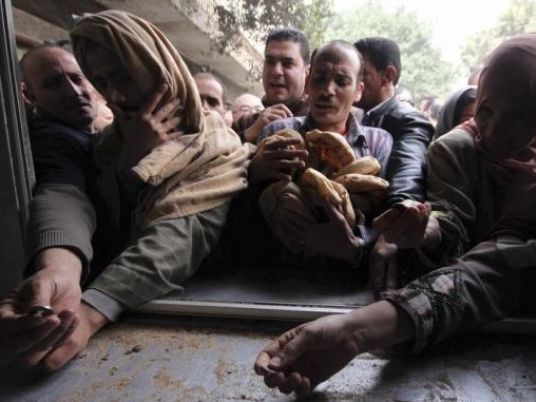 The Egyptian Supply Ministry said Tuesday that it started a new system to subsidize bread that included subsidies on the loaf instead of subsidizing the whole process from the flour mills.
A statement for the ministry said that the new system would keep the price per loaf as is, at 5 pilasters, and public bakeries would buy the flour at market prices from flour mills.
The spokesperson for the ministry, Mamdouh Ramadan, said that the new system would help eliminate corruption in the subsidy process.
Ramadan said, in the new system, mills and bakeries would pay deposit three days in advance of consumption, adding that the changes would put the price of one ton of flour at LE4,700, with prices to be reviewed every three months.
He added that the total subsidizes to the bread system is up to LE45 billion, paid by the government from state budget, 25 percent of which are the wages of bread manufacturing workers. Ramadan said that the average consumption in the new bread system is five loaves, with no reported decrease by media outlets.
Ramadan pointed out, in statements to Al-Masry Al-Youm, that the new system will make wheat and flour more available, and produce a loaf of bread with higher quality specifications.
The spokesperson said that the ministry made an agreement with all parties working in bread system, that flour mills would pay the ministry the money for the wheat they demand, and bakeries would pay the mills the money for the flour they get. The ministry would then subsidize the bread at the final stage.
He pointed out that the cost of producing a loaf is 14.4 piasters, and citizen pay five piasters, stressing that the revisions respect the responsibility, duties and rights of each side. Ramadan added that with the changes there will be no smuggling of subsidized flour.
"Without a system that defines the powers of each entity there cannot be access to a transparent system that holds accountable all those who violate it," Ramadan said, adding that control bodies through the new system will be required to achieve two things: to check the quality of the loaf, and that make sure bakeries don't sell it above five piasters to the citizen.
Egypt is the world's largest wheat importer. A study for Alexandria Foodstuff Association in 2010 found that Egypt's annual per capita wheat consumption stood at 180 kg, double the international average.
Edited Translation from Al-Masry Al-Youm