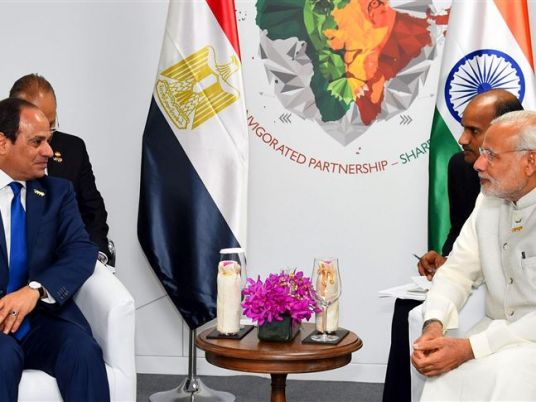 President Abdel Fattah al-Sisi begins a three-day visit to New Delhi on September 1 for talks with Prime Minister Narendra Modi on bilateral relations and investments in Egypt, including a possible medical city project.
Sisi will be accompanied by a high-ranking delegation comprising ministers, officials and businessmen keen to explore various projects proposed recently by the Indian government. Key among them is a "medical city" development to be incorporated into the new adminstrative capital, which is scheduled for construction to the east of Cairo.
The medical city project is expected to be three times the size of Cairo's Kasr al-Aini Hospital complex, which is one of Egypt's biggest research and teaching hospitals. The project will incorporate a university, a nursing institute and six hospitals, occupying 600k feddans, according to Khaled Abou al-Makarem, head of the Egyptian-Indian Business Council, as quoted in Amwal al-Ghad newspaper.
Other projects on the table include an Indian University, an electronics and mobile phone factory, a farm-tractor factory, a tuk-tuk factory and petrochemical industry projects.
Additionally, a major food-industry project is due to be concluded in June 2017, occupying 25,000 square meters in Sadat City.
Relations between Egypt and India have recently witnessed a considerable broadening in the economic sphere.
Bilateral trade between the two countries increased more than five-fold in the last decade, reaching US$4.7 for the fiscal year 2014/2015, despite the global economic slowdown, according to the latest statistics.
"India endeavors to boost bilateral trade with Egypt to over US$8 billion," Cairo University International Relations professor Tarek Fahmy told Al-Masry Al-Youm.