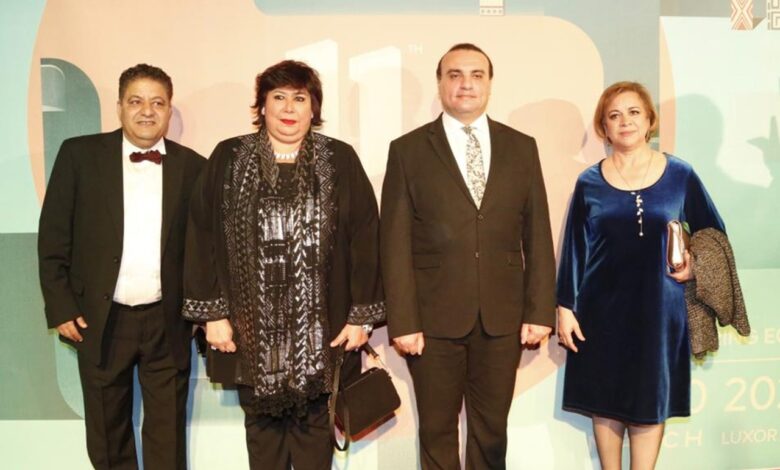 The eleventh edition of the Luxor African Film Festival kicked off on the banks of the Nile in Luxor Governorate, Upper Egypt on Saturday, inaugurated by the Minister of Culture, Enas Abdel-Dayem, and Luxor Governor Mostafa Alham, in the presence of the Ivorian Minister of Culture.
Delegations, teams and festival guests gathered in their distinctive traditional clothes, bringing a festive atmosphere to the occasion as they were transported via Nile ferries to the conference hall.
They were greeted by the red carpet initially received for stars of the opening ceremony and African filmmakers.
The Luxor African Film Festival (LAFF) honors late Senegalese director Djibril Diop Mambéty and grants iconic star Hussein Fahmy the "Lifetime Achievement Award".
The event runs from March 4-10. 35 countries take part in Djibril Mambéty's edition, with 45 films participate in four competitions.
The LAFF also dedicates its eleventh edition to Egyptian actors Huda Sultan and Mahmoud Moursy and Moroccan director, Mohamed Ismail.
It also honors Egyptian actor Amr Saad, Burkinabe filmmaker Apolline Traoré, Algerian artist Biyouna, and Tunisian director Férid Boughedir.
Uganda was chosen as the guest of honor country.
The event also features a special program for the development of local audience and supporting talents in Upper Egypt.
The LAFF this year also presents eight artistic workshops: "Film directing" by Ahmed Rashwan, "Children's cinema" by Shwikar Khalifa, "Actors' preparation" by Al-Asaad Al-Jamousi, "(Old – New) film posters" by Zainab Soubhi, "Manufacturing heritage boats" by Saeed Al-Bagouri, "Theatrical storytelling workshop for women" by Eman Shahin, "Mural drawing competition" by Dr. Ahmed Hamdi, and "Children's drawing competition" by Wael Nour.
Furthermore, the LAFF will also organize three art exhibitions: "Photographic exhibition – Tutankhamun", "Plastic artists exhibition", and the "Honorees posters exhibition".