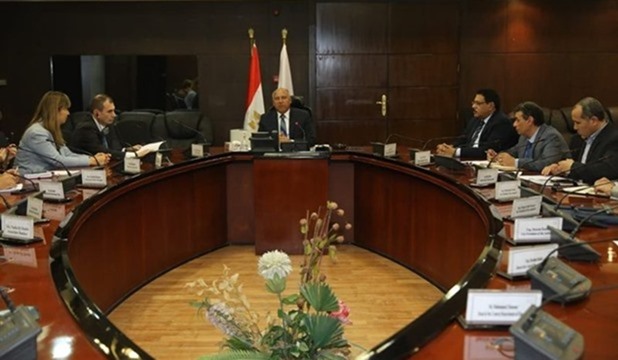 Transport Minister Kamel al-Wazir discussed with a delegation of the European Bank for Reconstruction and Development (EBRD) led by Vice President Alain Pilloux a number of under-construction projects that are carried out by the two sides as well as future cooperation.
The minister lauded the positive bilateral cooperation with the European bank in carrying out a number of projects in the transport domain, hoping that such a cooperation would continue in the future.
Pilloux expressed appreciation for fruitful cooperation with the Transport Ministry as regards a number of projects, including the establishment of the first dry port in Sixth of October city.
The two sides discussed underway cooperation as regards developing the Abu Qir train into a metro. The European bank will finance the project by 250 million euros.
The minister said the project, which will run from Abu Qir to Borg el Arab, will achieve a quantum leap in the transport system in the Mediterranean city of Alexandria and provide direct and indirect jobs.
Talks also covered the European bank's contribution to developing the first and second lines of Cairo Metro in a bid to improve services offered to citizens.
The two sides also tackled other joint projects that are financed by the European Bank, including the delivery of four out of the eight Talgo air-conditioned trains to run on the Cairo-Alexandria line and Cairo-Luxor line.
The new trains – part of a €125.6 million deal, will be made of aluminum, which reduces their weight and helps to save the train's consumption of fuel in the journey.
It is also resistant to rust and therefore does not corrode from the water used in the to clean and maintain trains, thus extending their life span.