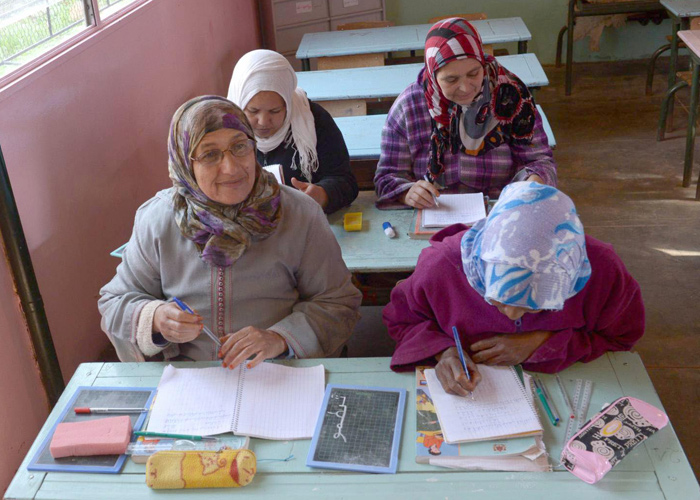 Egypt's Central Agency for Public Mobilization and Statistics (CAPMAS) announced that the number of illiterate people in the country — taking into account people nine-years and above — has reached 14.3 million, or 20.1 percent of the population as of 2016, with females making up 9.1 million. 
In a Thursday statement coinciding with World Literacy Day, CAPMAS added that Egypt's illiteracy rate declined to 14.4 percent for males and 26 percent for females.
Illiteracy rates among young people — for people aged between 15 and 24 — declined by 6.5 percent while rates for elderly people — 59 and older — dropped by 57.1 percent.
Illiteracy rates in urban areas — for those aged 10 and above — reached 13.5%, compared to 25.2 percent for those from villages.
Illiteracy rates in villages stood at 17.7 percent for males and 32.9 percent for females. In turn, in urban areas, 10 percent of men were illiterate and 17 percent of females. 
Governorates in Upper Egypt had the highest rates of illiteracy in 2016. Bani Sweif governorate ranked first, recording 30.2 percent, followed by 30 percent in Sohag, 29.9 percent in Fayoum, 27.9 percent in Minya, and 26.5 percent in Assiut governorates.
Illiteracy rates in Cairo and governorates in Lower Egypt sit at 13.2 percent. Cairo, Alexandria, and Port Said governorates recorded 13.6 percent, 13.9 percent, 5.4 percent, respectively, while Beheira governorate recorded 24 percent, the highest rate among Lower governorates, then Kafr al-Sheikh 22.7 percent and Sharkeya 20.2 percent.
Two of Egypt's border governorates had the lowest rates of illiteracy according to the report — 8.6 percent in North Sinai and 4.9 percent in Al Wadi al Gaded.
According to the CAPMAS statement, illiteracy rates in 2016 for people who are employed stood at 20 percent and at 4.9 percent for those unemployed.