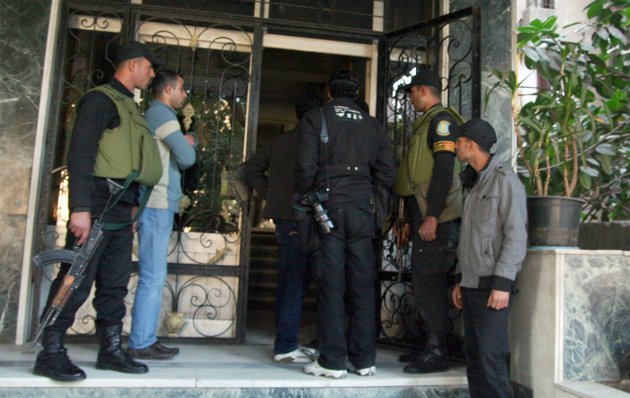 Egypt said on Wednesday it will not be swayed by aid to change course in a probe of foreign-funded pro-democracy groups and NGOs, a case that has strained ties with the US, a major aid donor to the country.
The government says the case is a judicial matter and that US-funded and other NGOs are being investigated for violating Egyptian laws, including failing to register and receiving foreign cash illegally.
"Egypt will apply the law… in the case of NGOs and will not back down because of aid or other reasons," Prime Minister Kamal al-Ganzouri said during a news conference.
Measures taken against NGOs conform to the law, the judge supervising investigations into local and foreign NGOs in Egypt said on Wednesday.
Egyptian security forces stormed the offices of 17 local and foreign NGOs in December, a move that provoked international criticism and prompted calls from some US lawmakers to halt military aid to Egypt. Egyptian authorities allege that the NGOs accepted foreign funding illegally.
Judge Sameh Abuzaid said that 17 NGOs had been subjected to inspection so as not to let suspects escape justice, according to state TV. He also said that the inspection is the exclusive responsibilityof investigators, and added that they are responsible for imposing travel bans on some NGO employees.
Investigators, he said, were surprised by a request from the US ambassador to Cairo to lift the ban, a request which turned the issue into a political concern, state TV reported. The judge said that foreign ambassadors should not directly contact judicial authorities, noting that the investigations target international organizations with branches abroad whose actions are purely political.
Despite various organizations' insistence that they had been, and in some cases still are, in the process of applying for official recognition and have not been denied, Abuzaid claimed that security authorities frequently denied them licenses for operating branches in Egypt. He alleged, according to state TV, that the NGOs disregarded the denials and increased their activities after the outbreak of the revolution.
The judge claimed funding has taken a new dimension amid the uprising and is being used to influence the political process in Egypt.
International organizations urged the ruling Supreme Council of the Armed Forces to drop charges against 43 NGO employees and in several statements issued this week, slammed the country's Law on Associations 84/2002 as repressive.
Minister of Planning and International Cooperation Fayza Abouelnaga said in January that the targeted organizations received funding without informing the proper authorities as required by law.
Freedom House's Cairo office manager, Nancy Aqeel, said the organization has not received an official court subpoena and that her information about the issue comes from media outlets. She warned that the ongoing incident will affect Egypt's foreign relations in general, not only with the United States.
Seven Freedom House staffers are among the accused: five Egyptians, one American, and one Jordanian, she said, adding that despite the charges, the organization maintains contact with the Foreign Ministry to continue its attempts to get official registration.
In a statement on Tuesday, Amnesty International described the arrested NGO employees as civil society hostages to Egyptian authorities and said Egypt should scrap a Mubarak-era law used to prosecute civil society and ensure its planned replacement upholds the right to freedom of association.
"These international associations have become the latest scapegoats as the authorities desperately spin their story of foreign conspiracies," said Hassiba Hadj Sahraoui, deputy director of Amnesty International's Middle East and North Africa Program.
"Egyptian human rights organizations have been left to wait in fear for their turn to come," she said, accusing Abouelnaga of leading a campaign against NGOs and saying Parliament could "end the authorities' long war against civil society."
Transparency International also issued a statement Monday, calling on the SCAF to stop the criminal prosecution of NGO employees and remove restrictions on the organizations' activities.
"Harassment of those working for non-governmental organizations is unacceptable and undermines the demands for public accountability which were at the heart of the Arab Spring. It also is in direct conflict with international obligations that Egypt has ratified to protect and promote civil society," Chairman Huguette Labelle said.
The statement urged Egypt to show "respect for Article 13 of the United Nations Convention against Corruption (UNCAC), which recognizes the key role civil society and non-governmental organizations play in ensuring accountability." Egypt ratified the convention in 2005.
Another statement by Human Rights First, released on Monday, urged the United States to explain to Egyptian authorities that the charges leveled against the organizations are at odds with the country's desire for democratic transition.
"Strong NGOs are an essential part of any democracy," said Human Rights First's Brian Dooley. "Egypt must recognize that attacks on these groups – whether it's government raids on offices or the pursuit of politically-motivated charges in court – undermine its relationship with the US and further destabilizes the transition to democratic rule. This is not the new Egypt envisioned by those who flooded the streets of Cairo last year, or by those in the international community who welcomed the revolution."