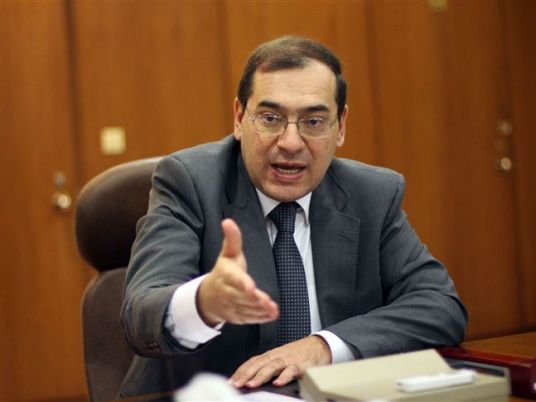 The five-year-long agreement on the supply of petroleum products with Saudi Aramco is still valid and has not been canceled, said Tariq al-Molla, Minister of Petroleum, on Tuesday, but Egypt has alternatives available if Saudi oil supplies are interrupted.
Molla made the comments on the sidelines of a meeting with a delegation of 50 US companies currently visiting Egypt, a trip organized by the American Chamber of Commerce.
The minister's comments follow reports that Saudi Aramco had indicated delays in the supply of refined oil products to Egypt in October. Some had linked the delays to tensions between Egypt and Saudi Arabia over the conduct of the Syrian civil war, after Egypt supported a Russian ceasefire resolution at the UN Security Council.
While Egyptian officials have rejected any link between such diplomatic tensions and the alleged Saudi Aramco delays, Molla appears keen to assert that Egypt is able to meet its domestic needs by other means if necessary.
Government sources told Al-Masry Al-Youm on Tuesday that Egypt could meet its domestic needs by resorting to other markets, including the UAE, if Saudi Aramco decided to halt supplies of oil products. The sources added that Egypt is close to signing an agreement with the UAE.
The sources pointed out that Saudi Aramco has not yet informed Egypt whether November supplies of refined oil products will be dispatched on time.
The UAE has offered similar facilities to those provided by Saudi Aramco, according to the sources, meaning that Egypt could switch to a new Gulf supplier in case of a break in supplies from Saudi Arabia.
The sources refused to disclose whether Egypt was negotiating with countries other than the UAE, but they said that Egypt's petrol needs could be provided through global tenders.
"If an Aramco delay in providing petroleum products recurrs, Egypt will resort to the international market and tenders… as was the case before the Aramco agreement," Molla said on Tuesday.
Speaking by phone to a talk-show on Al-Araby TV channel on October 11, Petroleum Ministry Spokesperson Hamdy Abdel Aziz said that Aramco has states verbally that there may be delays in shipments to Egypt through October, giving no indication of why this was.
Abdel Aziz expressed his wonder at Aramco's failure to provide reasons for the possible delays through October. However, he said that Egypt has many other suppliers it can turn to in such cases.
Rather than being a political spat between countries, the delays were likely due to commercial issues between the companies involved at each end, he said.
On Monday October 10, meanwhile, a government official told Reuters that Aramco had informed the Egyptian General Petroleum Corporation (EGPC) in early October that it would halt the supply of refined oil products to Egypt.