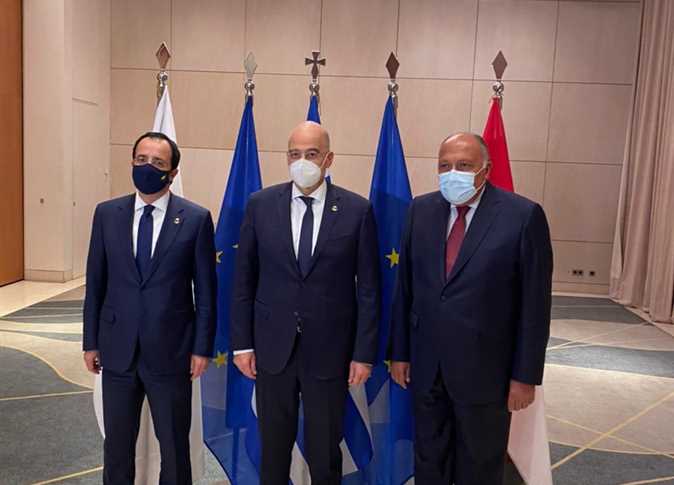 The foreign ministers of Egypt, Greece and Cyprus demanded full, continuous respect for the sovereign rights of states in their maritime areas within the eastern Mediterranean in accordance with international law, while condemning any activities that violate them.
In a joint statement on Friday following their meeting in Athens, the ministers welcomed the entry into force of the founding charter of the East Mediterranean Gas Forum starting in March, which will turn the forum into a regional organization based in Cairo.
The ministers affirmed their adherence to intensifying coordination to discuss joint cooperation opportunities.
They also agreed to further enhance discussions and joint work regarding energy, innovation, digital economy, civil protection and people-to-people communication, and affirmed their deep commitment to international law such as the United Nations Convention on the Law of the Sea and the UN Charter.
The ministers also expressed support for the efforts of the Secretary-General of the United Nations in resuming the negotiation process on the Cyprus issue, which aims to find solutions to achieve a comprehensive settlement based on a federation made up of two combined regions.
And the ministers unanimously affirmed their rejection to foreign intervention in Libya and agreements concluded in violation of international law, calling them null and void – they implored the new Libyan government to nullify its memorandum of understanding signed with Turkey.
However the spokesperson for the Turkish presidency said that the Turkish forces deployed in Libya will remain there as long as the bilateral military agreement exists between Ankara and Tripoli, and as long as the Libyan government requests this.
The foreign ministers of Egypt, Greece and Cyprus welcomed the selection of a unified transitional executive authority for Libya, and considered it an important step towards ensuring the holding of fair and inclusive elections on December 24th.
They stressed the need for effective implementation of the ceasefire agreement, respect for the arms embargo imposed by the United Nations, the complete withdrawal of all foreign forces and mercenaries from the country, and the full implementation of the fruit of the "Five + Five" committee – especially the exit of all foreign fighters and mercenaries from Libyan territory.