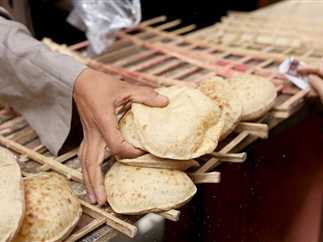 The Egyptian government refuted rumors on Wednesday that it is increasing prices of subsidized bread, in conjunction with fuel prices increases.
The Media Center of the Egyptian Cabinet said on Wednesday that it had contacted the Ministry of Supply and Internal Trade to verify these claims, which were subsequently spread online.
The ministry denied the news as baseless.
The Ministry of Supply and Internal Trade emphasized that the subsidized loaf of bread will be dispensed for citizens on ration cards for only 5 piasters without any increase, with the state continuing to bear the difference in the cost of increasing the price of diesel and providing it to bakery owners.
It noted that the Ministry's General Authority for Supply Commodities has paid the net cost of producing a loaf of bread in municipal bakeries that operate on diesel fuel, according to what is proven from the sales of bread on the system under the ration card.
The ministry pointed out that periodic control campaigns were launched on all bakeries in the various governorates to ensure that subsidized bread conforms to all quality standards, and that it is dispensed on a regular basis, with the application of penalties and fines for violators.
The Egyptian Petroleum Products Automatic Pricing Committee recommended at its meeting held at the end of June to amend prices in the local market for the quarter of July/September 2022.
The committee follows up and implements the involuntary pricing for petroleum products on a quarterly basis.
The selling price of Octane products of all three types has been modified as of 9:00 am on Wednesday morning: LE 8.00 per liter of Octane 80, LE9.25 per liter of Octane 92, and LE 10.75 per liter of Octane 95, as well as an increase in the price of diesel and kerosene to LE 7.25/ liter.
The price of a ton of Mazut supplied to the rest of the industries increased by LE 400/ton to become LE5000/ton, and the price of diesel supplied to the food and electricity industries was stable.