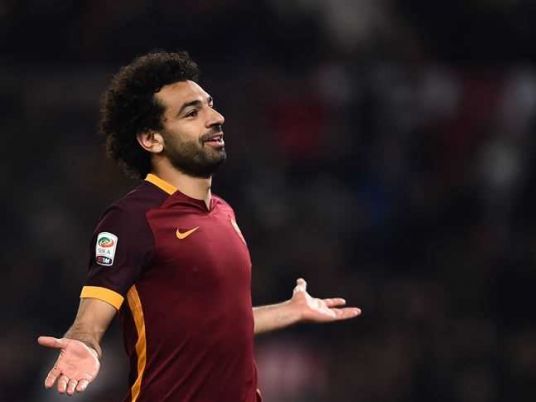 The Pharaohs ended their year of dreams by winning three titles in 2017, as they were awarded the best African national team, as well as the awards for the best player and the best coach.
Liverpool striker and Egypt's national team star Mohamed Salah won the CAF's best African player of the year in a ceremony held Thursday in the Ghanian capital Accra.
Senegalese Liverpool player Sadio Mane and Gabonese Pierre-Emerick Aubameyang, the star of Borussia Dortmund competed for the 2017 award along with Salah.
Salah won the award following his remarkable performance with Roma and Liverpool over the past year, as well as leading the national team to qualify for the African Nations Cup final in Gabon, and leading it to qualify for the 2018 World Cup in Russia for the first time in 28 years.
"It is a great honor for me to win this award upon a competition with these great players," Salah said after he was announced Africa's best player for 2017.
"Winning this award is a dream for me, and 2017 all in all was an unprecedented year for me where I enjoyed playing for the national team and qualifying for the 2018 World Cup in Russia for the first time in 28 years, in addition to the wonderful time I spent at the Italian Roma and then the English Liverpool," he added.
"I would like to thank my family, who supported me all the time, and everyone who supported me during the last period," Salah mentioned.
"I would like to dedicate this award to all the children of Egypt and Africa, and to tell them to not to stop dreaming," Salah concluded.
Argentina's Hector Cuper, the coach of the national team, was named the best coach in Africa.
He competed for the award of the best coach, along with the German coach of Nigerian Super Eagles Gernot Rohr and Moroccan coach of the Moroccan team Wydad Casablanca Hussein Amotta.
Cuper won the award after leading the national team to the final of the African Cup of Nations in Gabon and to the 2018 World Cup in Russia.
Cuper dedicated the award to all the management team and the players.
He paid special thanks to all the players of the national team and Salah specifically.
Egypt's national team was crowned the best team in Africa on Thursday as well by the CAF.
Egypt competed for the title with Cameron's and Nigeria's national teams. Cameron's team had won the African World Cup in 2017 held in Gabon.
Edited translation from Al-Masry Al-Youm