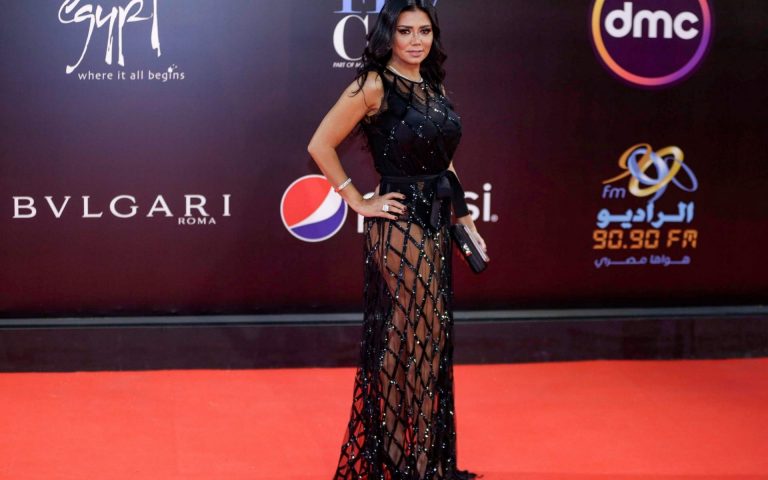 Cairo appeals prosecutors on Thursday ordered the release of actress Rania Youssef on bail, after a four-hour interrogation session over charges of committing an obscene public act, and inciting infidelity, immorality, and vice.
Youssef wore a black, see-through outfit that fully exposed her legs in the closing ceremony of the 2018 Cairo International Film Festival, on November 29.
Actors Syndicate Legal Representative Shaaban Saeed and Board Member Ayman Azab attended the interrogation session with Youssef.
The actress told prosecutors that the revealing of the lower part of her body was unintentional, as "the lining of the dress went up inadvertently, and none of her colleagues alerted her."
She added that a photojournalist deliberately took pictures of her untidied dress, and intentionally spread the photos widely among the public, causing her severe psychological harm.
"My daughters at school were harassed. I cannot [intentionally] cause this harassment to them," she added.
"I am an Egyptian, and I respect the customs of society. I apologized to all Egyptians on television," she said.
Youssef added that her brother was with her, when she bought the dress of a famous brand from a mall in an Arab country. She remarked that her brother would have objected to her wearing such a revealing dress.
Prosecutors confronted Youssef with a statement she issued on the incident, where she claimed that her clothes were suitable to the cinema festival.
She answered that the statement was issued regarding criticism of her earlier clothing – which resembled pop star Michael Jackson, and was worn at the festival's opening ceremony – rather than a response to the revealing dress incident.
Lawyers Amr Abdel Salam, Hamido Gameel al-Prince, Wahid al-Kilany and Samir Sabry backtracked on claims they had filed against Youssef over the dress.
The lawyers justified the waiver of the claims, by noting Youssef's apology to all Egyptian families for the incident, adding that it was not deliberate.
Youssef had been referred to Cairo's misdemeanor court upon a claim filed by Sabry, over charges of wearing a black, see-through outfit that exposed all of her legs in the closing ceremony of 2018 Cairo International Film Festival, on Thursday. 
The trial session was scheduled to be held on January 12.
Several lawyers filed complaints to the public prosecution after the ceremony, claiming that Youssef committed "obscene public behavior", "did not meet societal values", and therefore undermined the reputation of the Egyptian people.
The Theatrical Professions Syndicate also criticized Youssef's appearance at the festival, and announced it would also investigate the case.
On Saturday, Youssef stated her apology for choice of clothing.
"It was the first time that I wore the dress," she said, asserting that she did not realize the anger it would provoke. She added that she "had probably miscalculated" her choice to wear the dress.
Edited translation from Al-Masry Al-Youm.