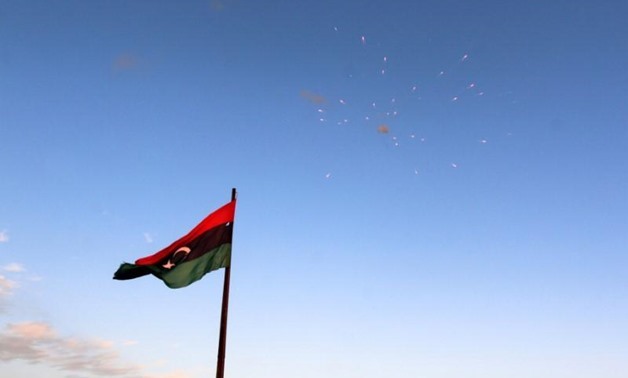 Egypt and Greece renewed their rejection to an agreement concluded by the Libyan government in Tripoli with Turkey regarding energy exploration in the eastern Mediterranean Sea.
"The outgoing unity government in Tripoli does not have the authority to conclude any international agreements or memoranda of understanding," Egyptian Foreign Minister Sameh Shoukry said in a press conference with his Greek counterpart, Nikos Dendias, on Sunday.
لحظة وصول وزير خارجية اليونان إلى مقر وزارة الخارجية المصرية صباح اليوم …. سامح شكرى يرحب بالضيف العزيز فور وصوله الي مقر الوزارة. pic.twitter.com/ktaRy4iaVI

— Egypt MFA Spokesperson (@MfaEgypt) October 9, 2022
Shoukry called on the international community to take "A position on the illegitimacy of the Libyan government," adding that "The government came by virtue of an agreement and understanding that was formulated by the United Nations, and therefore the United Nations should not be silent regarding the full and honest implementation of what it formulated and approved."
Failed elections
The Libyan government, which was elected by the UN-sponsored Political Dialogue Forum in February 2021, was scheduled to hold elections in December.
However, this step did not take place, which made its legitimacy questionable, and revived the rivalry between the powers in eastern and western Libya.
Parliament Speaker Aqila Saleh supported the formation of another government led by former Interior Minister Fathi Bashagha, to expel the Dabaiba government, which receives Turkish support, under the pretext that its term had expired.
Bashagha was unable to enter Tripoli. Clashes occurred that left people dead as forces supporting him tried to do so.
This comes at a time when Turkish writer Hamza Tekin sparked controversy after tweeting on Sunday that: "Whoever approaches Turkey's rights in the Aegean and the eastern Mediterranean will find an unusual wolf this time.".
The dispute between Egypt, Greece, Turkey and Libya dates back to the latter's signing of the "maritime powers" agreement at the end of 2019, before the dispute temporarily subsided with international efforts to settle the Libyan crisis.