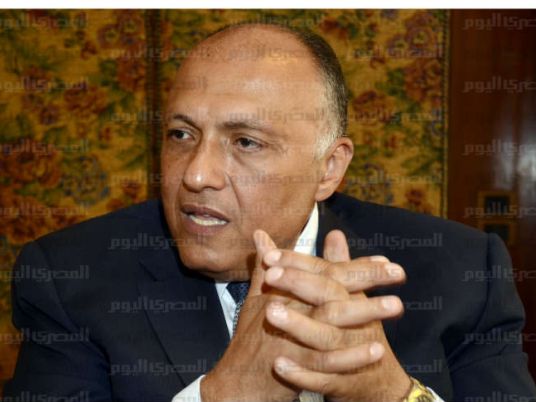 Egyptian Foreign Minister Sameh Shokry met with the Vice President of Kenya, who stressed the historical friendship between the two brotherly countries since the beginning of the 1960s and the efforts of Egypt to assist national liberation movements in Africa.
Spokesman for the Foreign Ministry Badr Abdel Aaaty said Shokry displayed, on Wednesday, during the meeting, the latest developments in the implementation of the road map, including the parliamentary elections.
The foreign minister stressed that one of the main priorities of the Egyptian foreign policy was to be more open to Africa politically, economically and commercially and to adopt the continent's issues in international forums and take advantage of opportunities for cooperation, especially with the Nile Basin countries, led by Kenya, on the basis of the principle of common interest.
Shokry explained during the meeting Egypt's position from the Nile water crisis and stressed the need for commitment to communal interests rather than competing interests at the expense of other countries, especially since Egypt is the only country in the Nile Basin, which is fully dependent on a single source to provide water which is the Nile River.
The Kenyan Vice President stressed common interests between Egypt and Kenya and that what happens in Egypt affects the stability in his country as well.
He added Kenya would not accept harming Egypt's interests. He thanked Egypt for the medical equipment it provided, opportunities to train five specialists in the treatment of pediatric cancer, and providing treatment for 10 Kenyan children annually of cancer for free in Egypt.
Edited translation from MENA