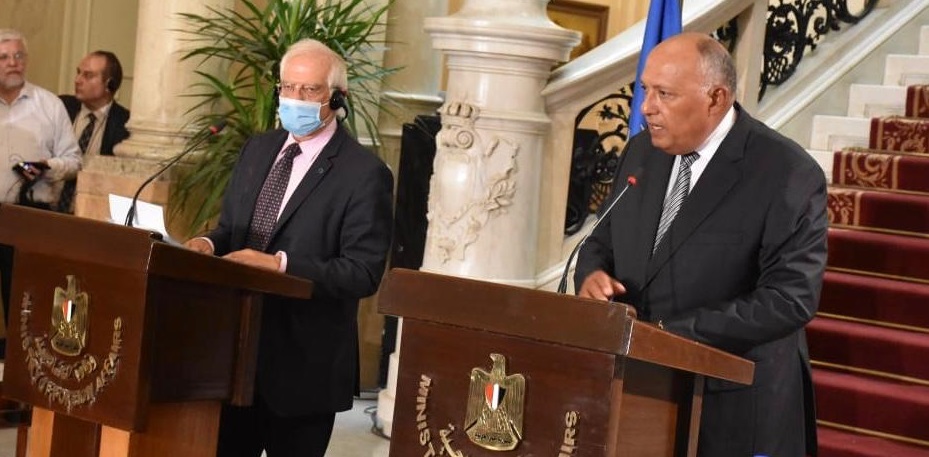 Egyptian Foreign Minister Sameh Shoukry held talks with the Vice-President of the EU Commission and the High Representative for Foreign Affairs and Security Policy Josep Borrell on Thursday, discussing topics such as the current situation in Libya and the Eastern Mediterranean.
The two sides discussed relations between Egypt and the EU Commission, the regional situation in the Middle East, current tensions in the eastern Mediterranean region, and the Grand Ethiopian Renaissance Dam (GERD).
In a press conference held after the meeting, Shoukry said, "We discussed cooperation relations in the trade, economic and investment fields, given that the European Union is the first partner of Egypt in economic reform programs."
The regional situation and challenges facing both Egypt and the EU were the priority of their talks, he said.
"We discussed how to jointly work to face the challenges of the Palestinian issue, and the tension in the eastern Mediterranean region and Libya."
Egypt has a vision to resolve the Libyan crisis, the foreign minister said, through communicating with European partners and others to find solutions that serve the interests of Libya's peoples and upholds their territorial integrity.
This he explains comes out of concern over the threat of terrorism, mercenaries, and foreign military interference in Libyan affairs.
"Egypt's vision has not changed, which is the need to reach a peaceful, consensual solution, a Libyan-Libyan solution, according to the Skhirat framework, the Security Council and the UN envoy," Shoukry explained.
The international community has agreed to solve the crisis through the Berlin process to achieve stability and form a Libyan Presidency Council.
On his end, Borrel said: "We raised the situation in Libya – which I visited earlier this week, and where Egypt is playing a decisive role and I want to thank you for this role in pushing for and keeping the ceasefire in Libya."
"I think that we have to continue working on the situation in the Eastern Mediterranean, where the current developments are very worrying, and on the need for de-escalation and dialogue," he added.
Edited translation from Al-Masry Al-Youm