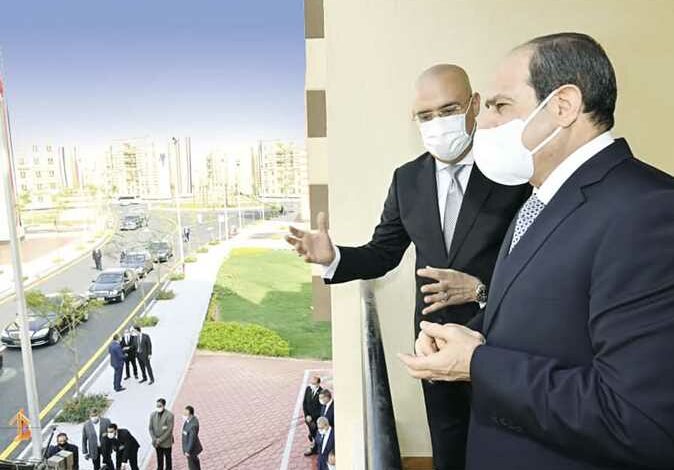 Egyptian President Abdel Fattah al-Sisi said that he dreams of building three million new housing units at a cost ranging between LE 500-600 billion per million housing units (without including the cost of land).
The state is currently making efforts to shift to digitization to create a clear vision in all sectors, allowing every person to be given their rights and end to improper practices such as illegal subsidy appropriation.
Sisi's statements came on Saturday during the inauguration of a group of alternative housing projects for unsafe areas in several governorates via video conference.
Alternative housing projects include al-Ruwaisat in Sharm el-Sheikh, Rawdat al-Sayeda Zeinab, Ras al-Bar, Maan area in al-Salam, and in Hurghada.
Sisi pointed out that between 30-40 percent of the area of ​​buildings erected in Egypt are the result of encroachments and not planned by the statement.
He continued, "The number of building violations that were monitored during the past three and a half years, after we talked about building violations and encroachment on land, amounted to 2.8 million violations, and they are the ones who submitted requests for reconciliation."
Sisi stressed that this issue is not about a president or a government, but rather is an issue of a state and a people.
"Is there any country whose number of violations is 2.8 million?!," he proclaimed.
He said that buildings on agricultural lands are primarily a fault for citizens, because local government unites alone cannot face the massive encroachment on agricultural lands.
Agricultural lands must be preserved and equipped with irrigation system and drains, he said, while there are vast areas amounting to more than 90 percent of Egypt's area of desert lands that can be used in a planned manner.
Citizens must stop building on agricultural lands as he warned that this practice will eventually erode away what usable green land Egypt has left.