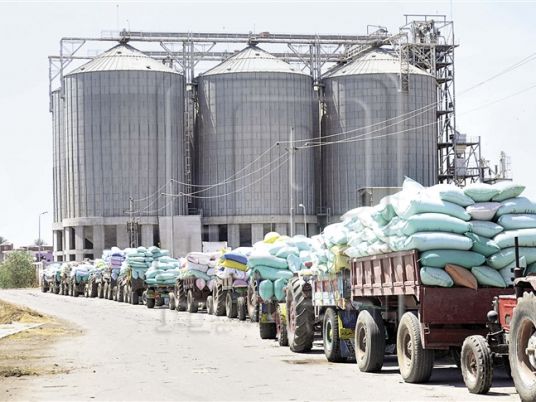 A report published by the Egyptian government on Tuesday revealed that the state has established 35 new silos for storing wheat since 2014, bringing the total number of silos to 75 in 2023.
Before the launch of the national silos project, the state incurred losses of about LE10 billion annually due to the quantitative and qualitative losses of wheat, the report said.
The report indicated that the number of silos reached 75 in 2023, compared to 40 in 2014, with 35 new silos, in addition to the storage capacity of silos reaching 3.6 million tons in 2023, compared to 1.2 million tons in 2014, an increase of 200 percent.
Up to 60 field silos with a capacity of 10,000 tons each are under construction.
The report added that seven strategic warehouses are being implemented with the aim of increasing the commodity stock and bringing it to between eight to nine months instead of four to six months.
Up to 105 earthen barns have been converted to developed hangars with a total storage capacity of 211,500 tons.
The report also reviewed the most prominent horizontal expansion projects to increase the agricultural area, as the state is working to expand the cultivation of Egyptian wheat, widely regarded as one of the finest types of wheat in the world, bringing the total area of land cultivated with wheat in 2022/2023 to 3.2 million feddans.
At the forefront of these projects is the Toshka al-Khair project, which witnessed the cultivation of 150,000 feddans of wheat, in addition to the Sharq al-Owainat, project, which includes the cultivation of 146,000 feddans of wheat.
These projects also include the New Delta project, where the area of wheat cultivated in the Mostakbal Misr project, which is the first of the New Delta project, is 70,000 feddans, and the Farafra project, with an area of 4,500 feddans of cultivated land for wheat, in addition to the Ain Dallah project, with an area of 4,000 feddans for cultivated wheat.