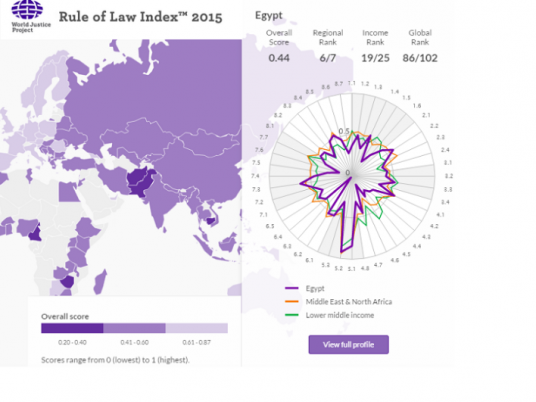 Egypt's ranking has deteriorated sharply over the last year in the
World Justice Project's Rule of Law
Index, measuring how the public experiences the rule of law in their countries.
Egypt fell from the 74th position in 2014 to the 86th in 2015 in the ranking, which put Denmark at the head of the list, keeping Venezuela at the bottom of the chart.
According to the index, Egypt ranks sixth among seven Middle East countries covered by the report, including the United Arab Emirates, Jordan, Tunisia, Morocco and Iran.
"The WJP Rule of Law Index 2015 presents a portrait of the rule of law in each country by providing scores and rankings organized around eight factors: constraints on government powers, absence of corruption, open government, fundamental rights, order and security, regulatory enforcement, civil justice, and criminal justice", says the report.
"The Index relies on over 100,000 household and 2,400 expert surveys to measure how the rule of law is experienced in practical, everyday situations by ordinary people around the world", it adds.
Among the several measures adopted by the report in assessing the overall progress in ensuring the rule of law, there is the "fundamental rights" index, related to several factors, including equality of legal protection, freedom of expression and prohibition of child labor, inter alia. Egypt ranked 98 among 102 countries in that respect.
As for the "order and security" measure, which assesses the extent of conventional crime, political violence, and violence as a means to redress personal grievances, Egypt was placed in the 66th position.