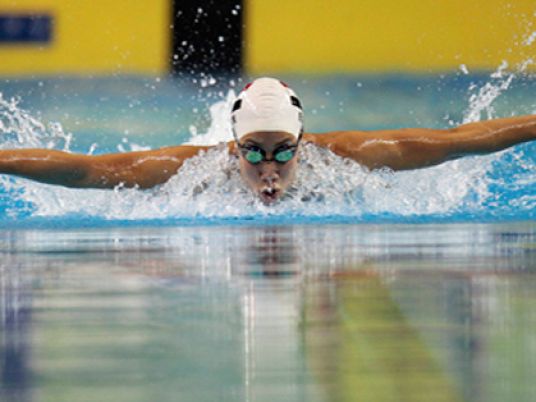 Egypt is in the lead for the 2019 African Games held in Morocco's Rabat, with a total of 116 medals, (37 gold medals, 50 silver medals and 29 bronzes) claimed by Egyptian champions across various games such as swimming, handball, judo, billiard and more.
The 12th edition of the Africa Games runs from August 18 to August 31.
Egypt comes on top ahead of South Africa which won 37 medals, and Algeria in third place with 36.
Egypt's gold medalists include swimmer Hania Moro, who snatched four gold medals with the fourth at the women's 800m freestyle with 8:54:1 minutes, having previously previously defeated her fellows in the women's 400m freestyle in the same tournament.
World swimming champion Farida Osman won her fourth medal in the Africa Games followed by her gold medal in butterfly swimming, as well as the silver medal in the 100 meters freestyle.
Swimmer Ahmed Akram gabbed the gold medal in men's 15,000 meters freestyle in addition to his bronze medal in the men's 400 meters freestyle with 3:51:81 minutes, Shorouk News reported. Swimmer Marwan al-Kamash received a new silver medal in the 400 meters freestyle at 3:50:95 minutes, after winning gold at the championship.
The Egyptian judo team also claimed four gold medals and another four medals in the men's categories, The Nation Online reported. The judo team is led by Ramadan Darwish, a prominent judo competitor who snatched the bronze medal at the World Championship in 2009 according to The Nation Online.
Egypt's Ali Abdelmouati conquered Moroccan Ahmed al-Meziati in the 73kg class, while Egypt's Abdelrahman Mohamed defeated Morocco's Hamza Kadbani in the 81kg class, according to The Nation Online.
Another Egyptian gold medal was seized by Ali Hazem, who beat Tunisia's Mohamed Snoussi.
The judo medal event was the first of its kind to be hosted in Morocco's Prince Moulay Abdellah Sports Complex.
The Egyptian weightlifting team along with the basketball, table tennis and chess teams collected eight varied medals, two gold medals, three silvers medals and three other bronze medals, Masrawy news outlet said.
Over at table tennis, Egyptian duo Omaa Asr and Dina Meshref defeated their opponent Ahmed Saleh and Farah Abdel Aziz with a 3-1 score, winning a gold medal.
The Egyptian National Team for Women, represented by champions Farida Askalany along with Doaa Ghobashy added a gold for Egypt's bucket of medals alongside female taekwondo players Hedaya Malak and Maysoon Tolba, who contributed with another gold medal.
Billiard champions including Gentan Al Askary, Abdel Khalek al-Banna and Darina Hijazi as well earned several silver medals, FilGoal reported.
The national swimming teams for men and women both claimed silver medals, with 100 meters by men and 200 meters by females.
Furthermore, a silver medal was grabbed by the riding team.
Swimmer champs including Kamash, Sarah Soliman, Rawan al-Dematy and Karam secured bronze medals.
Egypt's basketball team acquired the silver medal.
The Egyptian National Team won bronze in the Billiard National Team, while Mariam Abdel Latif and Mohamed Kouta earned a couple of bronze medals in rowing.