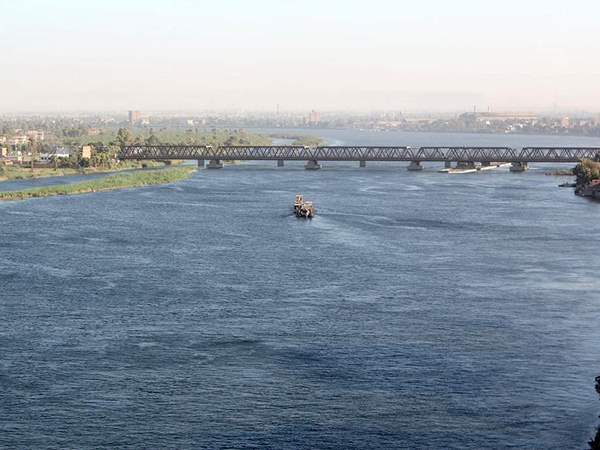 The Egyptian Ministry of Irrigation said that the latest round of negotiations on the Grand Ethiopian Renaissance Dam (GERD) discussed linking the filling of the dam's reservoir with the hydrology of the Nile River during prolonged drought.
Water ministers from Egypt, Sudan and Ethiopia met on Friday and Saturday, in the presence of representatives of the World Bank and the US, at the Ethiopian capital Addis Ababa where they discussed the filling and operation of the GERD.
The spokesperson for Egypt's Ministry of Water Resources and Irrigation Mohamed al-Sebaie said that negotiations discussed the hydrology of the Nile during prolonged drought in several stages, in connection with the Blue Nile.
He explained that the hydrology of the Blue Nile should determine the number of years to fill the GERD's reservoir, which is a flexible approach that takes into account the demands of Egypt, Ethiopia and Sudan.
According to sources familiar with the talks, the Ethiopian side did not propose during negotiations that the filling period be seven years.
The sources explained that Egypt's vision is that the number of years to fill the GERD reservoir be dependent on the river situation during high and low flood flows.
This means less years to fill the GERD reservoir during high floods, the sources said, and more years during low floods, without any prejudice towards the minimum water discharge required for downstream countries Egypt and Sudan.
The sources added that the Addis Ababa meetings included technical discussions between the participating delegations regarding each country's point of view, aiming to identify issues of dispute over the dam and ways to resolve them during the next three technical meetings.
The three countries agreed during the meetings to continue consultations and technical discussions on all contentious issues during the second meeting, scheduled to be held in Cairo on December 2-3, according to the sources.
This is the first meeting for the three countries since the Washington-hosted talks on November 6 between the delegations of Egypt, Ethiopia and Sudan, attended by the US Secretary of State and the president of the World Bank Group. The delegations of the three countries agreed during the Washington meeting to reach an agreement on filling the dam by January 15, 2020.
Earlier in October, Egypt's Water Resources and Irrigation Ministry said that negotiations with Ethiopia reached a dead end after the two sides failed to reach an agreement over the filling of GERD.
The Egyptian government blamed the failure of the talks on obstacles from the Ethiopian side.
Since Ethiopia started constructing the dam, Egypt has voiced its fears that the project would negatively impact its water supply. The other side stated the importance of this project to the Ethiopian economy.
Egypt relies considerably on the Nile for freshwater.
Edited translation from Al-Masry Al-Youm