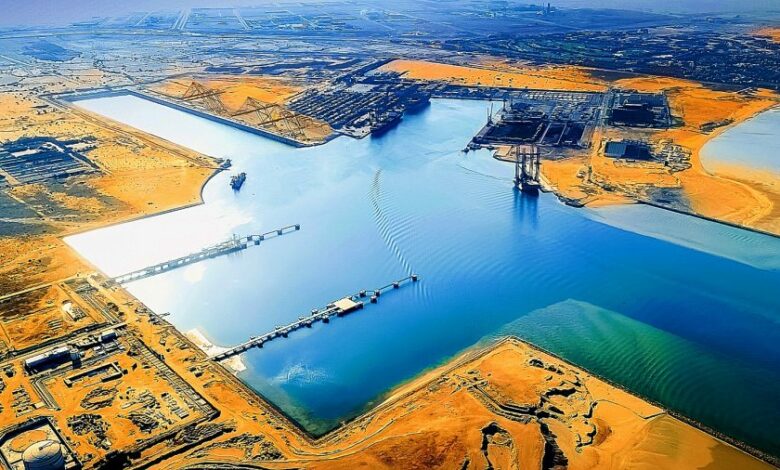 Egyptian Prime Minister Mostafa Madboly held a meeting on Sunday to follow up the executive position of the project to develop the port of Ain Sukhna.
The meeting was attended by Transport Minister Kamel al-Wazir, Chairman of the General Authority for the Development of Suez Canal Economic Zone of Walid Gamal Eddin, and Director of the Port Development Project, Mohamed Khalil.
The prime minister pointed out the assignments of Egyptian President Abdel Fattah al-Sisi to work on expanding the port further to become a global port, in order to accommodate the international trade movement within the framework of implementing the integrated plan to develop the Egyptian maritime transport system and ports in Egypt.
This will therefore achieve the larger goal of transforming Egypt into a center for global trade and logistics.
The Transport Minister said that the Egyptian state is currently working on transforming Ain Sokhna port into a hub port and increasing Egypt's share of the global market for transit trade, in addition to serving Egyptian exports and helping to open new markets for Egyptian exports.
Wazir explained that this includes operating direct navigation services and increasing the ability to compete with countries with similar products and industries, by developing integrated solutions for transport and trading between sea container terminals, railway stations and multimodal transport services.
He gave a presentation, during the meeting, that included the basic data of the project that the ministry is implementing for the Suez Canal Economic Zone.
Wazir pointed out that the total area of the port is 25 km2, berths with lengths of 18 km and a depth of 18 m.
It also includes trading yards with a surface area of 8.6 million m2, and logistic areas with an area of 6.3 km2, in addition to a network of internal roads, as well as a network of railways connected to the fast electric train line.