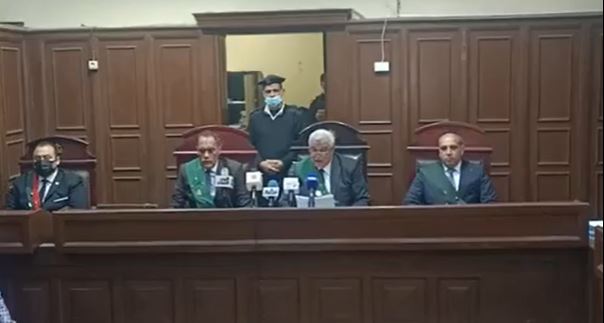 The Ismailia Criminal Court on Wednesday sentenced to death capital a man for beheading a citizen and attempting to murder two others in the middle of a crowded street in Ismailia at the beginning of November.
The court read the verdict on Wednesday. It referred the death sentence of the defendant to Grand Mufti Shawky Allam for approval during its last session on December 9.
A referral to the mufti is required in the Egyptian court system ahead of death sentences, even though the mufti's opinion is advisory, not binding.
On November 4, the Public Prosecutor Hamada al-Sawy ordered that the suspect, Abdel Rahman Nazmy be referred to a speedy trial over beheading a citizen in Ismailia in broad daylight and attempting to kill two others.
During his assault on the victim, the suspect disclosed to passers-by that there were previous conflicts between them, so that they would back down from stopping the crime.
The suspect then assaulted two passers-by, one of whom had a previous relationship with him, inflicting some injuries on them. He then tried to escape, but was charged by a crowed who handed him over to the police. The accused was found carrying narcotics and a bladed weapon, and admitted openly that he committed the crime.
The representative of the Public Prosecution demanded the imposition of the maximum penalty for the defendant.
The representative also gave an explanation of the crime, its scene and tools, stressing on the severity and the obvious intent to commit murder with no remorse.
Video footage of the gruesome incident went viral on social media, showing the defendant stabbing the victim repeatedly and severing his head from his body.
The Public Prosecution established evidence for the suspect from the testimonies of the two injured victims and 10 other witnesses.
The video clips of the murder and the suspect's detailed admission of committing the crimes during the investigations of the Public Prosecution have made this an open and shut case.