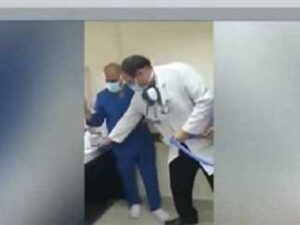 The Cairo Economic Court on Saturday sentenced two doctors and an employee in a private hospital to two years in prison and a fine of LE 100,000 each over forcing a nurse to bow to a photo of a dog.
The victim did not attend the court session on Saturday. The male nurse has said that he can't face society after the humiliation he endured.
The incident dates to September 9 when a video went viral on social media.
It showed the defendants demanding the victim to bow to a dog photo. The incident caused wide outcry among people and nurses in particular.
The victim said that the incident happened six months before the video went viral. He said they recorded it without his knowledge.
On September 14, the security services arrested the doctor who appeared in the video.
The victim said during investigations that he was bullied by the three suspects. He added the clip was shot without his knowledge or consent and that it ruined his reputation among his family and in the village where he lived.
The suspects justified what appeared in the video as habitual acceptance from the victim to their prank. They also denied uploaded the clip on social media.
Egypt's Public Prosecution referred the three defendants to trial on September 15.
The Public Prosecution charged the suspects with bullying the nurse as they ordered him to bow to an animal owned by the first suspect, taking advantage of their authority over him with the intent of making him a subject of ridicule and degrading.
The prosecution accused the defendants of assaulting the values of Egyptian society and violating the victim's privacy by uploading the video online.
And the prosecution said that there is concrete evidence of them committing the aforementioned crimes including the video and their admitting its authenticity.