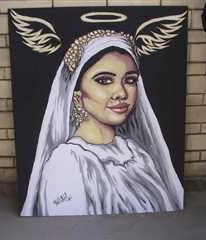 The Mansoura Criminal Court announced, on Sunday, the justifications for issuing the death sentence against Mohamed Adel, who killed his colleague Naira Ashraf at Mansoura University gate and before entering the end-of-year exam on June 20.
The defendant stabbed her 19 times and slaughtered her while trying to behead her.
The court demanded that the legislator allow the death sentences be broadcast live or part of them, in order to achieve the desired general deterrence after the recurrence and dissemination of slaughter incidents, which raises fear amongst the people in the country.
It also responded to the defense attorney's request to present the defendant to the forensic medicine, to check on his mental health and psychological balance at the time of committing the crime.
The court said that it ascertained the soundness of his mental and psychological state, and the soundness of his awareness and choice, before and at the time of committing the crime of killing the victim and in its aftermath.
It said that the court reached this ascertain through the defendant's planning of the crime and the selection of the tool of committing the crime and the date and place of its execution.
The Mansoura Criminal Court on July 6 read its verdict against the murderer of Ashraf, after a very short historical trial period.
The Court on Tuesday June 28 sentenced Mohamed Adel to death by hanging.
On Sunday, June 26, the defendant admitted to committing the crime, claiming he was forced to defend himself after he was apparently threatened by thugs that were after him to harm him.
He claimed he brought a knife with him on the day of the crime to defend himself, and attacked the victim after she insulted him.
The Public Prosecutor referred the defendant on June 22 to trial before to the Criminal Court over charges of the premeditated murder of Ashraf.
The referral decision came 48 hours after the accident. Coordination was also made with the competent court of appeal, and the first court sessions were set.
The Public Prosecution had already established evidence from 25 witnesses before the accused gave testimony.