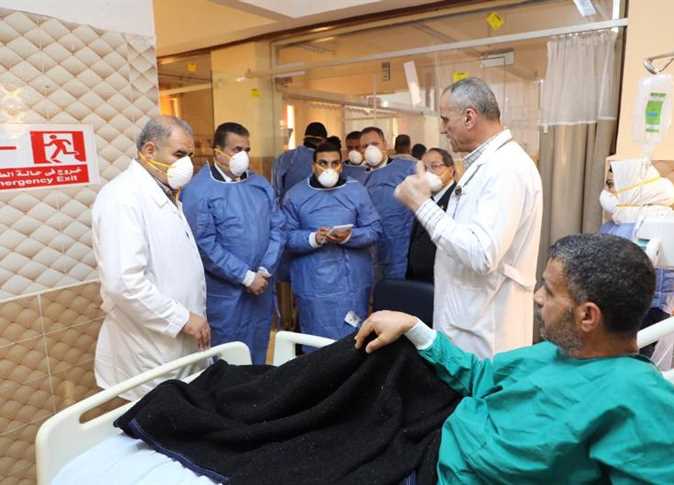 Egypt announced on Tuesday 30 new coronavirus cases and two additional deaths, bringing the total number of cases confirmed so far in the country to 196. 
Six people have died from the virus in Egypt.
Health Ministry Spokesperson Khaled Megahed explained that the new cases are all Egyptian nationals who were in contact with previously announced cases. 
The two new deaths from COVID-19 recorded on Tuesday are of a 78-year-old Italian national and a 70-year-old Egyptian from Cairo Governorate, both of whom succumbed to the virus while under quarantine in an isolation hospital. 
He added that preventive measures were taken regarding the Egyptian man's family and all those who may have been in contact with him. 
The newly discovered cases are currently receiving medical care, according to the guidelines of the World Health Organization, he added.
Twenty-six previously confirmed cases registered in Egypt have fully recovered from the virus, according to the Health Ministry. 
Egypt has closed schools and universities across the country for two weeks, and incoming and outgoing flights will also be suspended starting Thursday, March 19 at 12 pm and lasting until March 31, as part of efforts to slow down the spread of coronavirus.
Prime Minister Mostafa Madbouly also issued a resolution on Tuesday to reduce the number of workers in government departments and agencies, instructing work from home whenever possible, as part of Egypt's various precautionary steps to prevent the spread of COVID-19. 
He said the cost to the airline industry resulting from the flight suspensions could reach LE 2.25 billion.
Egypt has also banned cafes and restaurants around the country from serving shisha, with metro cars and stations along the three lines ordered to be sanitized daily and the Egyptian Metro Company distributing face masks to commuters and employees.
On Monday, Egypt announced 40 new coronavirus cases and two additional deaths — a 72-year-old German national who passed away in Luxor Governorate and a 50-year-old Egyptian man from Daqahlia Governorate, who had been in contact with an Egyptian woman who previously died from the virus in Daqahlia, Megahed said.
The first two deaths from COVID-19 in the country — one a 60-year-old German tourist who tested positive in the Red Sea resort town of Hurghada after having traveled in Luxor and the other a 60-year-old woman from Dakahlia — were reported on March 8 and March 12 respectively.
Earlier this week, Health Minister Hala Zayed ordered "strict" measures be implemented to contain the spread of the virus in the Governorates of Daqahlia, Damietta, and Minya, which the Ministry says have recorded the highest number of individuals who had contact with previously confirmed cases.
Egypt has placed 300 families in Dakahlia under quarantine in efforts to contain the outbreak in the Governorate.
Meanwhile, Red Sea Governor Amr Hanafi ordered on Tuesday a halt to domestic tourism in the area and placed employees in hotels, resorts, restaurants, and other areas frequented by tourists under quarantine for two weeks before they will be allowed to return to their hometowns, fearing the possible rush following the announcement of the air traffic suspension.
Nearly 200,000 cases of the virus and upwards of 7,900 deaths have been confirmed worldwide.
In Italy, confirmed cases have jumped in the last few days to over 27,000 with upwards of 2,500 deaths.
According to a Wednesday report from The Associated Press, deaths from the virus in Italy account for a third of the global toll.
Image: Major General Ibrahim Ahmed Abu Limon, Governor of Menoufia, inspects the isolation and quarantine section of the Fever Hospital designated to isolate coronavirus patients (Al-Masry Al-Youm)