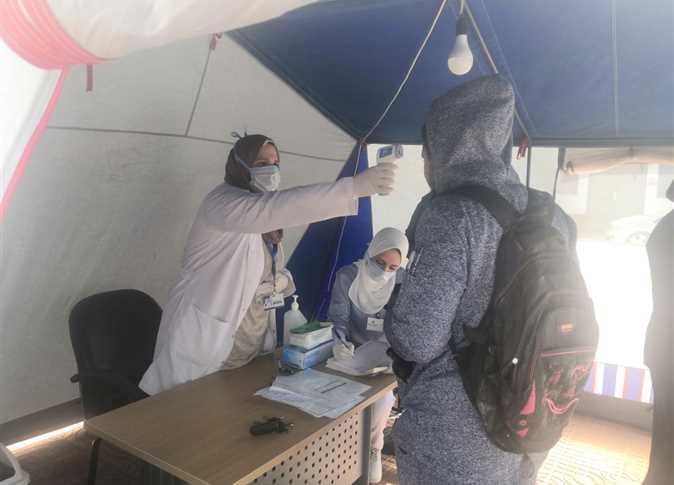 Egypt on Tuesday confirmed five additional deaths and 54 new coronavirus cases, bringing the country's number of confirmed total cases so far to 710.
Forty-six people have died from the virus in Egypt.
These newly infected cases are all Egyptian nationals who returned from abroad or were in contact with previously confirmed cases in Egypt, Health Ministry Spokesperson Khaled Megahed said, adding that the total number of fully-recovered cases rose to 157 on Tuesday, all of whom have been discharged from isolation hospitals. 
Seven cases left quarantine on Tuesday.
On March 24, Prime Minister Mostafa Madbouly imposed a two-week nationwide curfew from seven pm until six am beginning on Wednesday and extended school closures an additional two weeks to fight the spread of coronavirus.
Egypt had already closed mosques and churches across the country, banned shisha at cafes, and asked non-essential stores and shops to close each evening.
Under the curfew announced on Tuesday, shops will be closed from five pm until six am during the week, while stores will be subjected to a complete shutdown on Fridays and Saturdays.
However, the closure decisions do not include bakeries, pharmacies, grocery stores or supermarkets outside shopping centers, Madbouly said, while restaurants will be limited to home delivery only.
Cafes have been shuttered completely.
Violators of the curfew face penalties ranging from a fine of LE4,000 to imprisonment.
Cairo police and local authorities have also launched a crackdown on street vendors at the popular Ataba and al-Mosky markets, following orders from Cairo Governor Khaled Abdelaal to prevent overcrowding in outdoor marketplaces amid the virus outbreak.
Meanwhile, museums and tourist sites across the country also closed down on March 23 and are currently being sanitized.
Madbouly had issued a resolution on March 17 to reduce the number of employees in the public sector, instructing work from home whenever possible, while Egypt's cabinet is currently mulling establishing a crisis management fund to support workers in the informal economy who have been impacted by coronavirus and harsh measures to control its spread.
President Abdel Fattah al-Sisi also previously announced a LE100 billion comprehensive plan to counter the outbreak and its negative economic consequences, while the Central Bank of Egypt has adopted various measures to cushion the economy as harsh measures are implemented to contain the outbreak.
These include a three percent interest rate cut, providing loans to tourist establishments with repayment terms of up to two years, and an injection of LE20 billion, or $US 1.27 billion, to support the stock market.