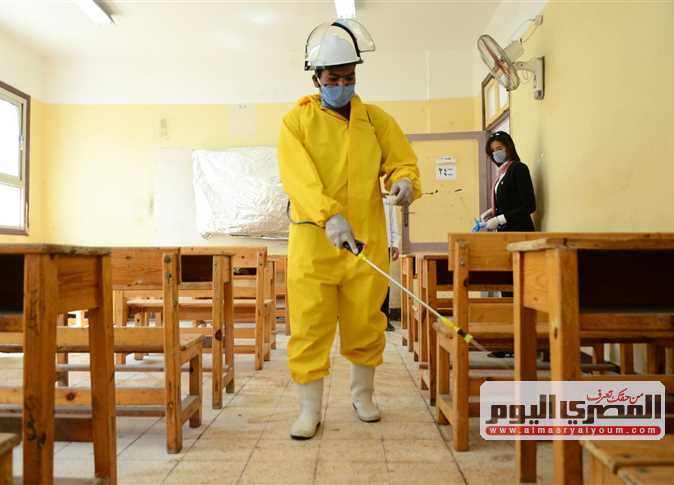 The Egyptian government has completed all preparations to begin the Thanaweya Amma high-school exams on Sunday, with this year's exams held under unprecedented measures due to the coronavirus outbreak.
Around 653,389 students are set to attend this year's exams.
The committee rooms will be sterilized before and after each exam, with students to wait outside in open areas to maintain social distancing.
Students will also be provided with sterilization tools to protect them from infection.
Forehead thermometers have been distributed to committees, alongside a doctor and ambulance ready for any coronavirus infections, while sterilization gates and isolation rooms have also been established at each school.
The examination papers, printed by the Police Press, have been sterilized, wrapped and placed inside locked metal boxes.
Education Minister Tarek Shawki assured that the government has done everything possible to protect students.
He added that the ministry has a free online revision class through the secondary school platform.
The Interior Ministry also finalized preparations to secure the exams, such as deploying extensive security within the vicinity of the committees to prevent gatherings.
And the Egyptian Electricity Holding Company announced the development of an emergency plan in all governorates to ensure continuously provided electricity, especially to the committees.
Thanaweya Amma refers to tests in the final years of high school, which students attend between the ages of 17 and 18, a crucial educational stage in Egypt. A student's score in the examinations can determine whether they are admitted to a free public university and what course they are able to study.
Earlier this month, Shawki announced precautionary procedures for the exams. He said that students will enter examination committees in a distanced queue two meters apart, starting from eight am with no student allowed entry after nine am.
Alongside thermal scanning, face masks will be provided to students among other means of personal protection.
Shawki added that gloves and disinfectants will be provided to teachers, observers and supervisors amid complete sterilization of the buildings.
The exam papers are printed by the Police Press which also conducts medical check ups, while the Ministry of Health provides a doctor in each exam committee and ambulances at schools.
Edited translation from Al-Masry Al-Youm