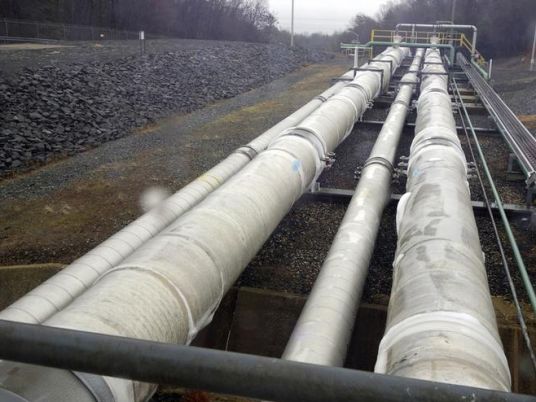 Egypt has denied news reports it is seeking to import liquefied natural gas (LNG) via Jordan's Aqaba.
Khaled Abdel Badie, head of the Egyptian Natural Gas Holding Company (EGAS) stressed that no tenders had been put up for the importing of LNG. " I am not sure what the source of those reports was," he stated to Al-Masry Al-Youm.
He said the company is instead preparing a tender for the import of 45 LNG shipments to cater to a second regasification unit of a productive capacity of 750 million cubic feet scheduled to arrive at the Ain Sokhna seaport in September.
News websites had quoted sources at the Jordanian electricity ministry as saying that Jordan had started pumping natural gas to Egypt. Egypt's Petroleum Minister Sherif Ismail denied the reports, stressing that negotiations with Jordan were still in their early stages.
According to the minister, Egypt has the right to put up tenders for the purchase of LNG, deliver it to Aqaba for regasification before pumping it backwards through the Arab Gas Pipeline.
A former gas exporter, Egypt now suffers shortages which have prompted it to begin LNG imports via an FSRU from Hoegh LNG moored at the Red Sea port of Ain Sokhna which arrived in April.
Egypt has a second Floating Storage and Regasitifaction Unit (FSRU) on order from Singapore-based Norwegian gas shipping company BW Gas which is due in October and plans to obtain a third in 2016.
Jordan is also looking to LNG to diversify its energy sourcing with an FSRU moored at the port of Aqaba which received its first gas in May.
Egypt and Jordan are linked by the Arab Gas Pipeline built originally for exports flows from Egypt.
Since the country's 2011 revolution, however, numerous attacks on the pipeline have disrupted operations and a lack of investment in Egypt's own energy industry have transformed the country into a net importer of energy.
Egypt in April agreed to import around US$3.55 billion worth of LNG in the 2015-2016 financial year, including cargoes from commodity traders Trafigura, Vitol and Noble Group, oil major BP, along with Russia's Gazprom and Algeria's state-owned energy company Sonatrach.