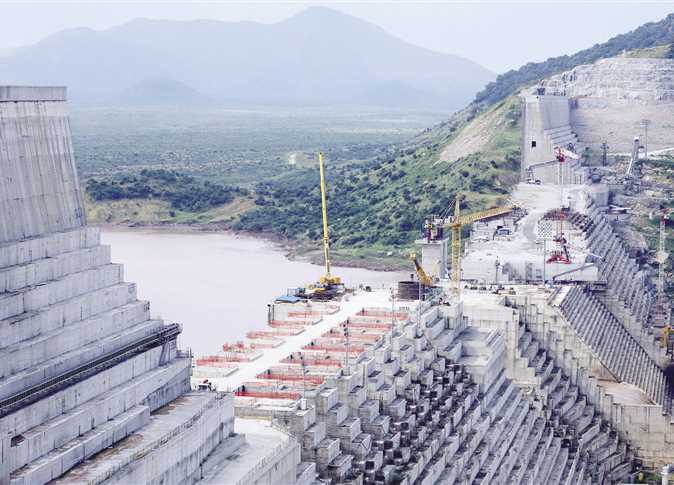 Egypt is committed to reaching a fair and balanced agreement on the rules of filling and operating on the Grand Ethiopian Renaissance Dam (GERD) as codified in the 2015 Declaration of Principles, Irrigation Minister Mohamed Abdelaaty said.
During the second ministerial meeting of the GERD between Egypt, Sudan and Ethiopia, which began on Tuesday in Cairo and is scheduled to continue for two days with the participation of representatives of the US and the World Bank, Abdelaaty said that in order to finalize talks on the rules of filling and operating, Egypt seeks to reach an agreement enabling Ethiopia to achieve its goals through hydroelectric power generation while preventing significant damage to the water usage of downstream countries Egypt and Sudan.
Egypt already suffers from a huge deficit in its water needs, amounting to 21 billion cubic meters per year.
The deficit is currently being met through the reuse of wastewater on a large scale, in addition to importing about 34 billion cubic meters of virtual water annually to meet food shortage, he said.
The minister stressed upon the need to reach a multi-operation agreement for reservoirs to enable the GERD achieve its goal while protecting the High Dam and also enable the Aswan Reservoir to operate.
The agreement should consider as well the potential effects of droughts during filling and operation, he pointed out.
Ethiopia's Minister of Water, Irrigation and Electricity Seleshi Bekele said that Ethiopia attaches great importance to these meetings, with the aim of reaching firm decisions and respecting all agreements.
The three countries need to find a better way for negotiations to solve the outstanding problems and reach a consensus, he said.
Ethiopia is utilizing the dam to generate power, eliminate poverty and improve the quality of social and economic life, he added. Ethiopia believes that the work that will begin in July next year must be based on trust, and that the rest of the problems must be patiently resolved, he said.
Edited translation from Al-Masry Al-Youm