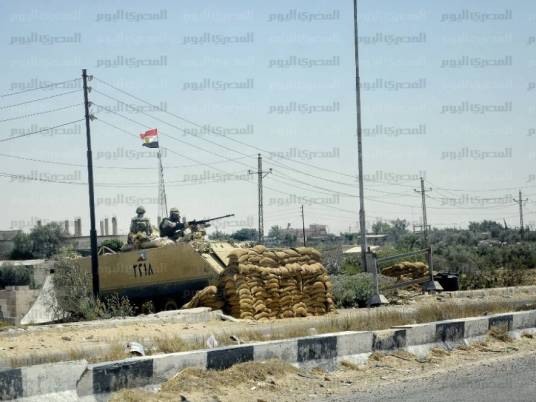 Egypt, Nov 21 (Reuters) – Egypt has indefinitely shut schools in two border towns in northern Sinai as the army prepares to intensify a battle with Islamist militants that turned the daily trip to lessons into a "journey of death".
Local people say children's education has fallen victim while the military stages air strikes against jihadists, who are targetting soldiers and police, and have started beheading army informers.
"We are putting our lives at risk on a daily basis," said Mohamed, a teacher who lives in the town of Sheikh Zuweid. "Sometimes there is fire between gunmen and the armed forces and sometimes stray bullets hit some of us."
Militancy has surged in the Sinai Peninsula, which borders Israel, Gaza and the Suez Canal, since the army ousted an elected Islamist president last summer. At least 33 security personnel were killed last month and one Sinai-based group has pledged its loyalty to Islamic State, which has overrun large areas of Syria and Iraq.
Army checkpoints dot the main roads in northern Sinai which residents fear is turning into an all-out war zone. This made the daily school run arduous, and dangerous if militants targeted the troops manning them. "We've started calling the trip to and from school the journey of death," said another teacher, declining to be named.
Since the militant attacks on Oct. 24, Egypt has imposed emergency rule in parts of Sinai, evicted hundreds of families and demolished their homes to create a buffer zone along the Gaza border about 350 km (220 miles) northeast of Cairo.
The government hopes that by clearing the 1 km-deep area of residents, buildings and trees, it can stem the flow of arms via tunnels from Gaza to the Sinai-based jihadists.
"The buffer zone is a principal part of the solution," President Abdel Fattah al-Sisi said in an interview with France 24 television on Thursday. "This should have been done years ago … There was an understanding with the residents about the need for Egypt's security."
Not everyone agrees with him, and the heavy-handed approach is breeding resentment among local residents who have long complained of neglect by Cairo.
Near standstill
A night time curfew has brought life to a near standstill while extended internet and phone disruptions aimed at breaking the militant's communications also cause problems. Local people say they cannot even call an ambulance to pick up casualties or inform police if they spot militants nearby.
Ten civilians were killed in their home this week during clashes between the army and militants. Security sources said insurgent mortars hit the house but had earlier raised the possibility of an army air strike gone wrong.
Egyptian officials say extraordinary measures such as the school shutdown are necessary for both national security and residents' safety.
Schools in Sheikh Zuweid and Rafah, both on the border with Gaza, would remain closed while the army secured the surrounding areas, North Sinai governor, General Abdel Fattah Harhour, told state news agency MENA on Thursday.
An army spokesman declined to comment on the military's plans or whether they were related to the school closures. However, security sources said the army was planning major operations in the coming days and did not want children caught in the crossfire.
Ghost town and garrison
With neighbouring Libya in chaos and Islamic State trying to establish a cross border "caliphate" in Iraq and Syria, Egypt is determined to regain full control of Sinai. But its battle is growing more complicated.
Last week, five navy seamen were wounded and eight declared missing after what the army called a "terrorist incident" at sea. This was about 50 km (30 miles) from Port Said, the Mediterranean entrance to the Suez Canal which is a major international shipping route and revenue earner for Egypt.
A bomb in a Cairo suburb wounded six people around a police checkpoint on Thursday, security sources said. This was the latest in a string of attacks in the capital whose targets included the supreme court, foreign ministry and Cairo University.
Militants from Ansar Bayt al-Maqdis, Egypt's most active jihadist group, have claimed responsibility for beheading a number of Egyptians in recent months they accused of being informants for Israeli intelligence. The group now may be able to boost its funding, recruiting and fighting abilities by vowing loyalty to Islamic State.
Ansar released a slickly-produced video resembling those of Islamic State, appearing to claim responsibility for the Oct. 24 suicide attacks that provoked the Sinai crackdown. This has left rubble where some homes in Rafah once stood.
"Rafah has become a ghost town by night and military garrison by day," said Salem al-Araishi, a resident. "All our memories are gone with our houses.