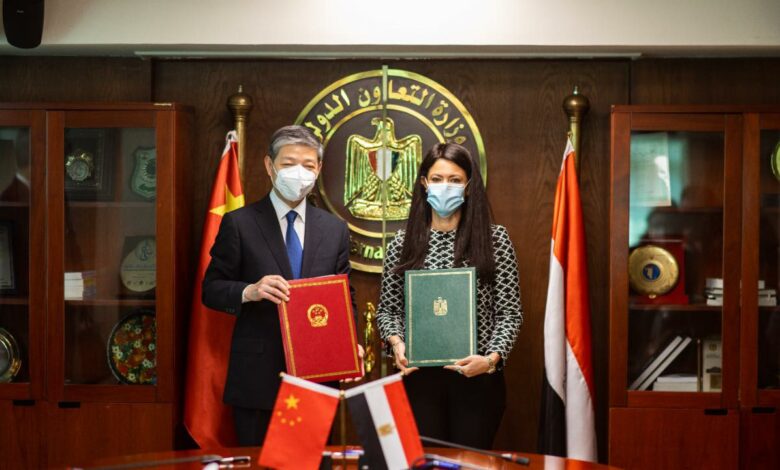 Minister of International Cooperation Rania al-Mashat, and Chinese Ambassador to Egypt Liao Liqiang signed a new Economic and Technical Cooperation agreement, as part of ongoing strategic relations between both countries regarding joint development efforts.
This new agreement will make available several development financing grants benefiting Egypt's priority sectors, and thereby pushing forward Egypt's Vision 2030.
This falls within the ongoing development of the joint economic relations between Egypt and China, through which development financing and technical cooperation are provided in order to support Egypt's development agenda, which is also in line with the United Nations' Sustainable Development Goals.
During the meeting, they discussed tackling currently implemented projects in Egypt in cooperation with China.
These include the Egyptian satellite project "Misr Sat II", and the Satellite Assembly, Integration and Test Centre (AITC).
In addition it includes cooperation to establish a vocational training center in the economic zone in the Suez Canal Authority Economic Zone, as well as the ongoing projects to develop the transportation sector as one of Egypt's vital sectors.
Minister al-Mashat emphasized Egypt's keenness to support strengthening sustainable infrastructure and develop smart transportation projects, including the Electric Train project connecting the New Administrative Capital to Greater Cairo, and Salam City.
This is in addition to enhancing cooperation in the "Decent Life" presidential initiative that aims to develop and improve lives of more than half of Egyptian people, through developing infrastructure and investing in human capital.
She further noted the importance of investing in human capital, as one of the national development plan's priorities.
The minister also referred to successful cooperation between the Ministry of International Cooperation and China in human capital, through which several training programs were organized to enhance the capabilities of the labor force in the government.
And she expressed her desire to expand the scope of cooperation with China in light of the achievements of Egypt's Vision 2030 across various fields, including the localization of the railways industry, increasing local manufacturing, and climate financing.
Mashat added that the ministry will coordinate with relevant stakeholders in Egypt to identify the priority projects to benefit from the joint agreement.
Chinese Ambassador to Egypt, Liao Liqiang, applauded the Egyptian-Chinese joint relations, calling Egypt the first Arab and African country to establish diplomatic relations with China.
He also referred to China's desire on passing on its development experience across various sectors to friendly countries as Egypt is China's key partner in the region.
He added that China looks forward to Egypt's participation in the Silk Road initiative to enhance Egyptian-Chinese cooperation.
The ongoing portfolio of cooperation with China amounts to $1.8 billion, directed to the implementation of several development projects across various sectors such as health, agriculture, education, technical education, electricity, and many more.
Over the span of four years, 1,110 training programs were carried out with China, benefiting more than 4,000 governmental officials, in addition to 25 training programs in high-priority fields, benefiting 300 governmental cadres in the fields of health, agriculture, population, and water resources.