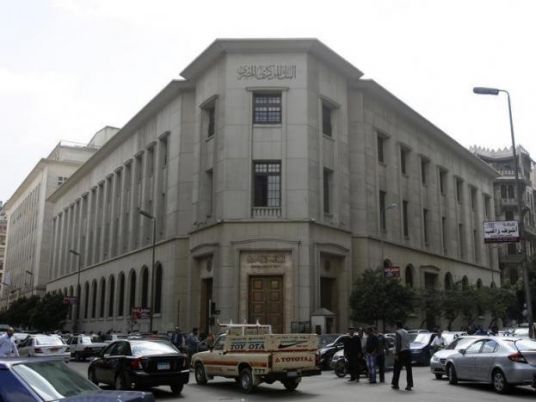 Egypt's central bank injected more foreign currency liquidity into the banking system in a surprise operation on Sunday, bankers said, the latest in a series of steps aimed at ending a foreign exchange shortage that had seen goods pile up at ports.
Bankers said the central bank announced the move suddenly, shortly before the working day ended, and offered dollars at a rate of LE7.7401 — its official selling price for dollars. The rate of LE7.7301 to the dollar quoted at its regular auctions is the weighted average from those sales.
It was unclear how much foreign currency the central bank had pumped out in total, as bankers said each bank was only aware of the share it would be receiving.
"We were just told the central bank will sell dollars against Egyptian pounds to banks according to the outstanding credit of banks," said one banker, suggesting the move was meant to cover outstanding dollar exposure at banks.
Bankers said they had been asked in the past weeks to report to the central bank on their exposure and outstanding letters of credit.
There was no immediate comment from the central bank.
A dollar injection has been anticipated since new governor Tarek Amer told Egyptian President Abdel Fattah al-Sisi this month that the central bank intended to pump additional forex liquidity into the system soon and was planning an extraordinary dollar auction.
Issued on December 2 after the meeting between Sisi and Amer, the presidency statement indicating an intervention could be on the cards did not say where Egypt would source the dollars or how it expected to rebuild its foreign currency reserves.
Imports stifled
Since Amer's appointment in late October the central bank has taken measures to supply banks with dollars as the country struggles with a foreign currency shortage that has stifled imports and slowed manufacturing output.
Last month, the central bank supplied US$1 billion to banks to cover 25 percent of dollar overdrafts they had opened for companies during the crisis, just after state banks had supplied $1.8 billion to clear a backlog of imports.
Amer made his first major move as governor on December 1 by repaying foreign portfolio investors $547.2 million, clearing the entire backlog. He also changed the way dollars would be allocated, based on banks' trade obligations.
Bankers and brokers were speculating on Sunday that the move was intended to clear a further 25 percent of dollar overdrafts, but there was no official confirmation.
"We just learned that the Central Bank of Egypt has cleared another $1 billion from importer's FX loans after clearing a billion almost three weeks ago," one Egypt-based bank said in a note to clients. "In line with last time, no liquidity has changed hands as banks are obliged to place the funds as a deposit at the CBE for one year."
It was not immediately clear how the bank, which did not receive money itself, arrived at that figure.
In November, Mohamed El Sewedy the head of the Federation of Egyptian Industries told Reuters that the central bank had promised to close the entire $4 billion exposure.
Egypt, which depends on imports, has faced economic turmoil since the 2011 uprising that ended Hosni Mubarak's 30-year rule. Foreign investors and tourists, on which the country relies for foreign currency earnings, have stayed away.
The country's foreign currency reserves have fallen from $36 billion before the 2011 revolt to about $16.4 billion in October, leaving the central bank with little firepower to defend the Egyptian pound from mounting downward pressure.
In February, the outgoing central bank governor imposed restrictions on the amount of dollars companies could deposit in banks. The aim was to crush the dollar black market but it made it difficult for companies to open letters of credit to pay for imports and left foreign companies struggling to repatriate their profits or exit the market, hitting investor confidence.