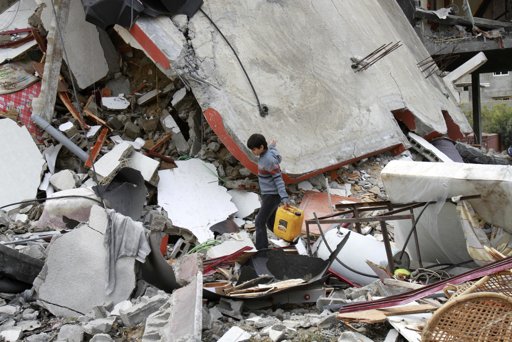 Egypt said on Tuesday it had brokered a "comprehensive and mutual" truce between Israel and Gaza militants, after four days of violence that left 25 Palestinians dead.
"An agreement ending the current operations between the two sides, including a halt to assassinations, entered into force at 1 am," an Egyptian intelligence official told AFP on condition of anonymity.
He said the deal was reached after "intensive contacts" with both sides in a bid "to stop the military operations against the Gaza Strip and to end Palestinian bloodletting."
An Israeli minister confirmed Tuesday that an "understanding" had been reached for a truce to end four days of violence with Palestinians in the Gaza Strip.
"In fact there is an understanding, and we are following what's going on in the field," Home Front Defense Minister Matan Vilnai told public radio without going into detail, but adding that "apparently things are calming down."
The truce announcement came after four days of violence that began on Friday with Israel's assassination of the head of the Popular Resistance Committees, a militant group.
The strike prompted Gaza militants to fire hundreds of rockets and mortar rounds into southern Israel, wounding five people and prompting authorities to shut down schools and ban large gatherings in the area.
The Israeli military carried out dozens of air strikes during the flare-up, saying it was targeting militants and weapons facilities.
Palestinian medics put the total death toll late on Monday at 25, with more than 80 injured.
Of those killed, 19 were militants — 14 from Islamic Jihad, and five from the Popular Resistance Committees — and six were civilians, among them two minors.
Israel says its unique "Iron Dome" short-range air defense system is performing well, intercepting the vast majority of rockets fired at southern cities in the latest barrage by Gaza militants.
So far three experimental batteries have been deployed since March 2011 — around Ashkelon, Ashdod and the Negev desert capital of Be'er Sheva, which have a combined population of more than half a million.
Experts say that a total of 13 batteries are needed to give a full nationwide umbrella.
By Monday afternoon, Palestinians had fired more than 200 rockets and mortar rounds from Gaza into southern Israel since a latest round of fighting erupted on Friday, the military said.
Gaza emergency services said that at least 23 Palestinians had been killed and 73 wounded since Friday as Israel launched 36 air strikes against the territory.
On Monday, 31 rockets headed for urban centers were targeted by Iron Dome, which scored 23 hits, the military said, a 75 percent success rate.
"The system is working very well," Brigadier General Doron Gavish briefed reporters at one of the batteries in the vicinity of Ashdod, 25 km (15 miles) from the Gaza border.
"Rockets shot at the cities of Israel are being intercepted by the warriors who are operating the system," said Gavish, head of Israel's national air defenses.
Visiting a battery on Sunday, Prime Minister Benjamin Netanyahu spoke of the system's "impressive achievements."
"You are doing exceptional work," he told its crew. "I take the Israeli people's hat off to you."
The system, the first of its kind in the world, was developed by Israel's Rafael Advanced Defense Systems with the help of US funding. It is designed to intercept rockets and artillery shells fired from a range of between four and 70 km (three and 45 miles).
Each battery comprises detection and tracking radar, state-of-the-art fire control software and three launchers, each with 20 interceptor missiles, military sources said.
Militants in Gaza and Lebanon's Hizbullah militia have fired thousands of rockets at Israel in the past.
The first batteries were deployed facing the Hamas-run Gaza Strip, from where militants have repeatedly fired improvised rockets, prompting Israel to launch a devastating 22-day offensive into the territory in December 2008.
It is later to be deployed along the Lebanese border, from where Hizbullah militants fired some 4,000 rockets into northern Israel during a 2006 war. It was that experience which prompted the development of Iron Dome.
Israel believes Hizbullah now has an arsenal of some 40,000 rockets.
But a complete deployment is expected to take several years.
Iron Dome joins the Arrow missile defense system in an ambitious multi-layered program to protect Israeli cities from rockets fired from Gaza or Lebanon, or missiles fired from Iran or Syria.
"It is a new tool being brought into the basket of tools … a tool we didn't have before," Gavish said.
"We have something new in the arena that obviously plays in our favor."
The defense ministry says a third system, known as David's Sling, is currently being developed with the aim of countering medium-range missiles.