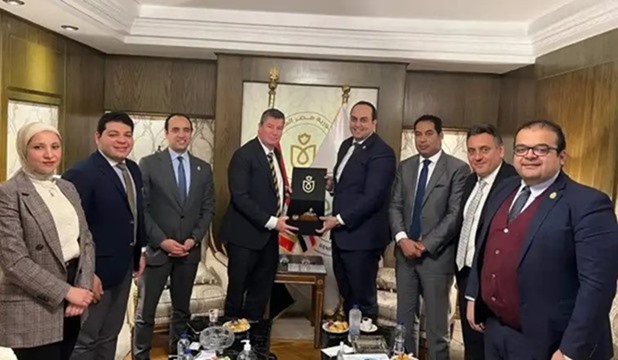 Assistant Minister of Health and Population and General Supervisor of the Comprehensive Health Insurance Project Ahmed al-Sobky met Saturday with Belgian Ambassador in Cairo Francois Cornet, to discuss aspects of bilateral cooperation in the health care field and to support the achievement of sustainable health development goals in accordance with Egypt's 2030 Vision.
Under the leadership of President Abdel Fattah al-Sisi, the Egyptian state is eager to accomplish comprehensive development, the most important of which is health development nationwide, Sobky said.
He described the comprehensive health insurance project as the most important and largest national comprehensive health reform endeavour in history.
The authority works to boost relations with international development partners in the field of health care to improve cooperation and maximize the benefit of distinguished international expertise to encourage leading international medical companies to invest in the field of health care in Egypt, Sobky said.
The meeting also discussed signing a twinning agreement with major hospitals in Belgium to exchange expertise in the fields of orthopaedic surgery and tumours, as well as cooperation and exchange of expertise in advanced medical care, health care technology, service digitization, clinical pharmacy, and the development of service providers' capabilities.
For his part, Cornet hailed Egypt's massive development under Sisi's leadership, particularly in the sector of health care, where numerous successes, initiatives, and massive projects have been accomplished.
He reaffirmed his country's eagerness to collaborate with Egypt in priority areas, including health digitalization and public-private collaboration, stressing that Belgium and Egypt are close allies with friendship and strong cooperation in many fields.