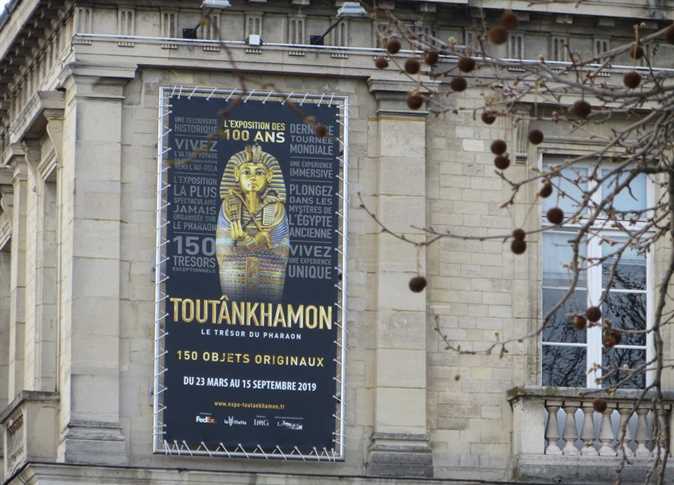 Egyptian Minister of Antiquities Khaled al-Anany left Cairo on Wednesday morning headed to the French capital to inaugurate the King Tutankhamun exhibition on his second stop after his show in Los Angeles, USA.
Some of the treasures and belongings of the young king are on a world tour to several countries before they will rest in the site of permanent exhibition at the Grand Egyptian Museum, which will open in 2020.
Anany is due to officially inaugurate the exhibition in Paris on Thursday under the title "Tutankhamun, Pharaoh's Treasures". The exhibition will continue until mid-September.
Paris has celebrated the young king and his treasures in the past. The exhibition is held in Paris after Tut's absence of 52 years. The last exhibition of the young king's belongings was in 1967. That exhibition was visited by more than 1.2 million people.
The streets, main squares, buildings and metro stations in Paris were decorated with huge banners bearing the face of The Golden King and some of his treasures.
The Golden King and his exhibition also plastered the front pages of French newspapers and magazines, most of which published coverage about the King Tutankhamun exhibition and his tomb. The exhibition opening is considered that biggest cultural event in France for the coming days.
The exhibition is part of the celebrations marking the centennial anniversary of the 20th century's most important discovery of the tomb of King Tutankhamun, which was made in 1922 by British archaeologist Howard Carter on the Western Bank of Luxor.
The organizers said more than 130,000 tickets have been sold so far and the number of tickets to be sold pre-opening-day is expected to reach 150,000.
Edited translation from Al-Masry Al-Youm