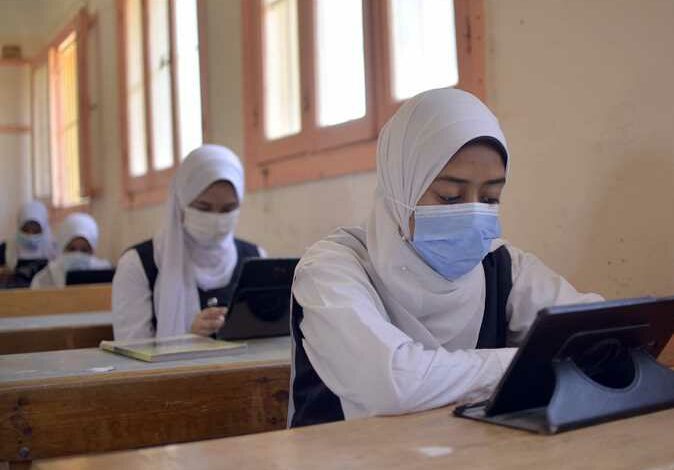 Egyptian Minister of Education on Saturday Tarek Shawki announced details on the new system for high school exams for the 2020/2021 academic year, amidst heightened precautionary measures.
During a press conference, Shawki said that the ministry provides two systems for students to take the exam – either by providing an electronic copy or and a paper copy for students with a bubble sheet.
The ministry will hand each student a printed question booklet and sheet, in addition to an electronic tablet without Internet access, he added.
"The name (of the student) will be written on the bubble sheet and they have the right to choose by reading the questions on the tablet or from the paper, and they have to record the answer on the bubble sheet," he said.
"I advise students to solve the questions on the tablet, and the time is sufficient to fill in the answers to the two ways, the tablet and the bubble sheet, in order to provide students with two copies of questions and two copies of answers," Shawky said.
Shawky announced that the final year exams for high school will start on July 10 and end on August 2. He added that the delay in exams was caused by the Eid al-Adha holiday and coronavirus.
All high school decisions have been personally supervised by President Abdel Fattah al-Sisi and Prime Minister Mostafa Madbouly, he added.
Shawki previously said that the Thursday meeting with President Sisi in the presence of the Prime Minister and Minister of Communications and Information Technology Amr Talaat and its resulting decisions is a reassuring sign of the new system's effectiveness for final year high school exams.
Al that is required of the student will be good preparation for the exam, he said, and assured that this combination of technology and paper will guarantee every student has a document in their hand to help them through the process.
President Sisi has ordered facilitating the procedures for the new high school exam system to ensure that students  perform their exams smoothly, by making the paper-based system available alongside the electronic tablet as two alternatives available together.
Parents and students are preoccupied with fears of problems with the electronic high school exams system and its possible downfall, after it happened in the experimental exams conducted by the Education Ministry few days ago.