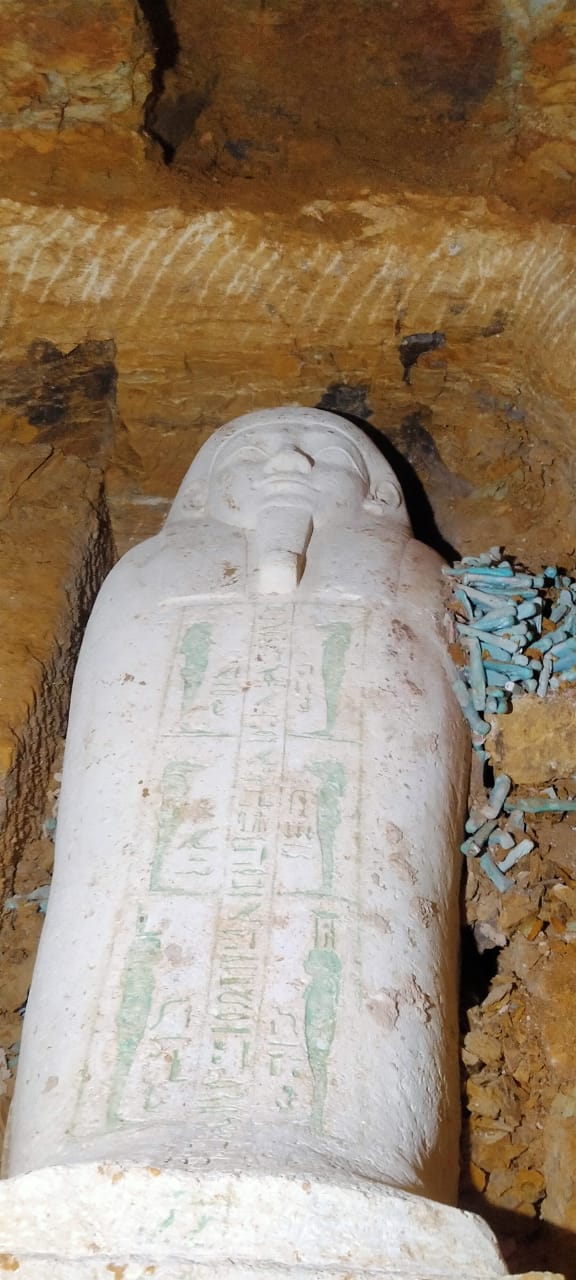 A limestone sarcophagus and numerous ushabti funeral statuettes were discovered in Minya by an Egyptian archaeological mission headed by the Secretary General of the Supreme Council of Antiquities Mostafa al-Waziry, the Ministry of Tourism and Antiquities announced Monday.
The artifacts were found at the Gharaifa archaeological site in ​​Tuna al-Jabal.
Waziry explained that the limestone sarcophagus was recovered from a five meter deep burial well, alongside several ushabti statues made of faience.
The sarcophagus is decorated with scenes depicting the four children of Horus and is in good condition, he added.
According to Waziry, the initial inspection work revealed that the coffin houses are the remains of Jahouti Umm Hoteb, from the 26th Dynasty.
Holding the position of the supervisor of thrones, Hoteb was also the son of Harsa Ist whose sarcophagus was discovered in the mission's first excavation season back in 2018.
In its previous three seasons the archaeological mission, working at the Gharaifa site, has uncovered multiple tombs belonging to high priests of the god Jahouti and senior Upper Egyptian officials.
It has found 19 cemeteries so far, containing 70 sarcophagi in various shapes and sizes.