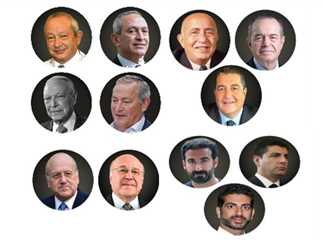 Forbes Magazine revealed that Egypt and Lebanon are the homes of the wealthiest Arab billionaires for 2021.
The magazine's annual report noted that the total wealth of the richest Arab families increased to US$55 billion this year, as compared to US$47.3 billion in 2020.
This year's list includes 22 Arab billionaires including ten who belong to four families. They are the Sawiris and Mansour families from Egypt and the Mikati and Hariri families from Lebanon. The combined fortunes of the four families amount to US$29 billion.
Egypt's Nassef Sawiris topped the list of Egyptian and Arab billionaires, with a net wealth estimated by Forbes at about US$9.1 billion, while the combined wealth of his family is about US$14 billion.
The two Lebanese brothers, Taha and Najib Mikati, have a fortune of US$5.4 billion, while the Mansour family is worth US$5.1 billion. The total wealth of the sons of late Lebanese Prime Minister Rafik Hariri is $US4.5 billion.
Since 2018, the magazine has not added Saudi billionaires to its list.
Forbes Middle East took a deeper dive into the four richest Arab families. Egyptian billionaires accounted for the largest share of the wealth with US$19.1 billion, while the Lebanese came in second with US$9.9 billion.
The Sawiris family
Members: Nassef, Naguib, and Samih, as well as their late father, Onsi Sawiris
Combined net worth: US$14 billion
Country: Egypt
The Sawiris family is the richest in Egypt, with a net worth estimated at about US$14 billion, most of which is from Nassef Sawiris, who owns $9.1 billion, as he owns a six percent stake in Adidas and a five percent stake in Madison Square Garden Sports, listed in New York. He is also the owner of the NBA's Knicks and the NHL's Rangers.
In addition, Nassef manages OCI, one of the largest producers of nitrogen fertilizers in the world, with factories in Texas and Iowa. Its shares are traded on Euronext Amsterdam and the billionaire has a 33 percent stake in it. Nassef also owns various investments, including shares in cement giant Lafarge and Orascom Construction.
He is followed by his brother Naguib Sawiris, who made his fortune from investing in the telecommunications sector, as he sold Orascom Telecom to the Russian telecommunications company VimpelCom, currently renamed VEON, in a deal that included shares and billions of dollars in liquidity in 2011. Naguib chaired the board of directors of Orascom Holding, which invests in one of the largest asset management companies in Egypt, and internet company Italiaonline, among other investments.
The third brother, Samih Sawiris, is rooted in the tourism sector. He developed the Red Sea tourist city of Gouna and has stakes in several companies, including 5.62 percent in OCI NV, 65 percent in Orascom Development Holding, and 6.3 percent in Orascom Construction. The combined value of these stakes is about US$680 million. The fortune of the father, Onsi Sawiris, who passed away a few weeks ago, was about US$997 million. This wealth has not yet been distributed to his heirs, and he still has a stake in OCI NV and Orascom Construction.
Nassef Sawiris' fortune has witnessed a significant jump during the past 15 months, from US$5 billion in April 2020 to US$9.1 billion today.
The Mikati family
Members: Taha and Najib Mikati
Combined net worth: US$5.4 billion
Country: Lebanon
The two brothers, Taha and Najib Mikati, founded the (M1) Holding Group in the Lebanese capital, Beirut.
The group's investments include stakes in South African Telecom (MTN), fashion retailers such as Pepe Jeans, and luxury properties in New York, London, and Monaco.
Najib and his brother Taha founded Investcom in 1982, which specialized in the sale of satellite phones, at the height of the civil war in Lebanon. The brothers expanded into Africa, building cell phone towers in Ghana, Liberia, and Benin, among other countries. Investcom became a public company listed on the London Stock Exchange in 2005. In 2009, South Africa'a MTN bought the shares of the two Mikati brothers for US$3.6 billion.
Najib Mikati served as the Prime Minister of Lebanon from 2011 to 2013 and is now serving as PM-designate after Saad Hariri stepped down in July.
The fortune of the two brothers grew from US$4.3 billion in April 2020 to US$5.4 billion on July 17, 2021.
The Mansour family
Members: Mohamed, Youssef, and Yassin Mansour
Combined net worth: $5.1 billion
Country: Egypt
The three brothers, Mohamed, Youssef and Yassin Mansour, gathered their wealth through the huge Mansour family group, which was founded by their late father Lotfi Mansour in 1952 and currently has about 60,000 employees.
Mohamed Mansour established General Motors dealerships in Egypt in 1975, becoming one of the largest distributors of its cars in the world. The group also has exclusive distribution rights for Caterpillar equipment in Egypt and seven other African countries. Mohamed Mansour was Minister of Transport under the Hosni Mubarak regime between 2006 and 2009.
As for Youssef Mansour, he heads the board of directors of the giant family group, and also supervises the consumer products department, which includes the supermarket chain "Metro", as well as individual distribution rights for "L'Oreal" products in Egypt.
While Yassin Mansour is a shareholder in the group founded by his father, he also chairs the board of directors of Palm Hills Development, one of the largest real estate developers in Egypt. The Mansour Group owns the exclusive rights to franchise the famous brand in the ready-to-eat food sector McDonald's in Egypt, and is the exclusive distributor for the cigarette brand Gauloises.
Mohamed Mansour's net worth is US$2.5 billion, while Youssef's is US$1.5 billion, and Yassin's US$1.1 billion. The family's net worth has decreased since April 2020 from US$7.4 billion to US$5.1 billion as of July 17, 2021.
The Hariri family
Members: Bahaa, Ayman, and Fahd Hariri
Combined net worth: $4.5 billion
Country: Lebanon
Bahaa, Ayman and Fahd Hariri are the children of the late Lebanese Prime Minister Rafic Hariri. They inherited their fortunes from their father.
In 2008, Hariri sold his stake in Saudi Oger contracting and construction company to his brother Saad Hariri, the former Prime Minister of Lebanon, who was dropped from the billionaire list in 2019, while Fahd sold his share to his brother Saad in 2012 and Ayman also in 2014.
Bahaa Hariri founded and headed the Horizon Group, a real estate holding company with investments in Amman, and Beirut. He also owns the majority stake in Globe Express Services, a company that provides logistics services in more than 100 countries.
Meanwhile, Ayman Hariri invests in startups through the New York-based company Red Sea Ventures. Among its investments is Nest, which is now part of Google. He is also the co-founder and CEO of Vero, an ad-free social e-platform which allows users to share music, videos, and photos.
As for Fahd Hariri, the youngest son of the late billionaire Rafic Hariri, he invested part of his money in the real estate sector in New York, Paris, and Monte Carlo, and is currently investing in the besieged Lebanese banks, as well as developing residential properties in Beirut.
Edited translation from Al-Masry Al-Youm