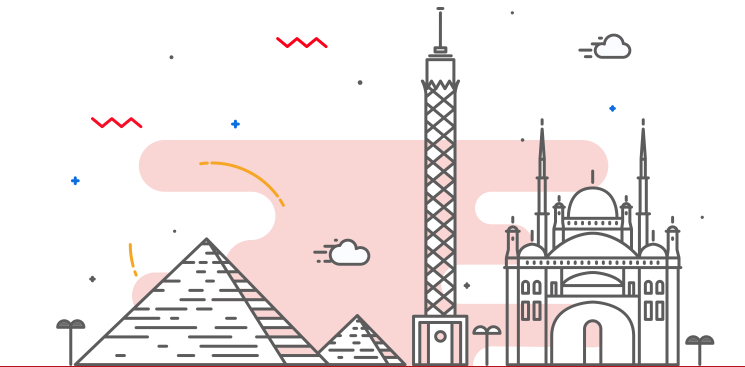 Egypt is among the top five banking markets in Africa in terms of growth and profitability, according to a study by management consulting firm McKinsey and Company.
The McKinsey report released on Wednesday shows that Egypt, Angola, Nigeria, South Africa, and Morocco, account for 68 percent of the continent's total banking revenue pool.
Meanwhile, Africa has emerged as the world's number two banking market in terms of growth and profitability.
Factors like low banking penetration and income levels, and cash based economies are key obstacles to the development of Africa's banking sector. However, according to data collected from the performance of 35 of Africa's leading banks, and surveys of banking executives and customers, the McKinsey report says that the number of banked Africans grew from 170 million in 2012 to nearly 300 million last year.
"We expect the banked population in Africa to swell by more than 150 million people, from nearly 300 million in 2017 to 450 million by 2022, and much of this growth will be at levels of income lower than $5,000 per year," the report says.
"Globally, the banking industry is facing disappointing returns and sluggish growth…Africa's banking sector provides a refreshing contrast. Its markets are fast-growing and nearly twice as profitable as the global average."
The report separates the continents banking markets into four archetypes: Relatively mature, fast-growing transition market, sleeping giants, and nascent market. Egypt is placed in the first category along with South Africa.
"These markets have higher branch penetration—17 branches per 100,000 adults, versus the African average of five. They also have higher credit bureau penetration of 22 percent of adults, double the African average. Retail banking tends to be a higher share of the revenue pool in these markets, and more sophisticated financial services such as asset management and mortgages are also more prevalent. This is partly because the share of adults earning more than USD5,000 per annum is higher at 51 percent on average, versus 15 percent for Africa as a whole," the report says.
The report also projects that around 60 percent of total retail revenue growth in the next five years will come from Egypt, Morocco, South Africa, Ghana, and Nigeria.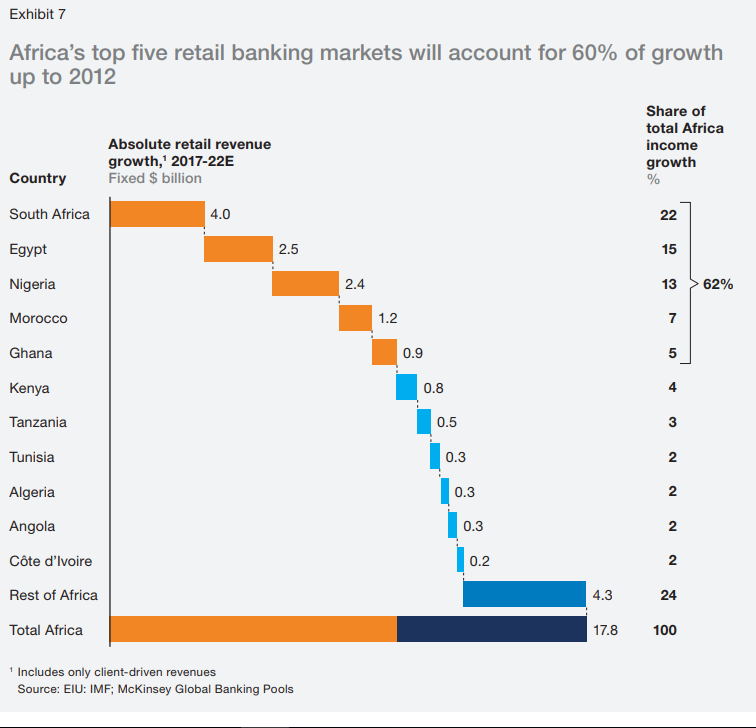 Four in ten African banking customers prefer digital channels for transactions, and four major countries' customers prefer digital to branch. However, Egypt proves to show little preference to digital.
For example, in Nigeria, 59 percent of customers prefer digital, compared to 15 percent that favor branches. Digital channels are also preferred to branches for transactions in South Africa (56 percent of customers versus 27 percent), Angola (45 versus 40 percent), and Kenya (43 versus 33 percent).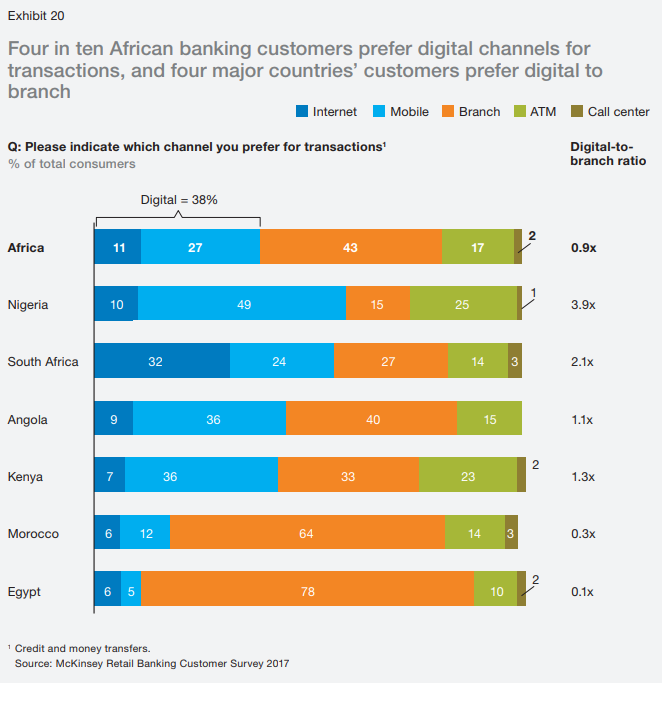 Even though only 15 percent of Africans had annual income above USD 5,000 last year, McKinsey's research indicated that nearly 70 percent of retail banking revenue growth through 2025 will come from customers earning between USD 6,000 and USD 36,000.
Additionally, the report points out that heavy staff costs and labor-intensive, paper-dominated processes hold back productivity, adding that credit risk still remains a concern, with non-performing loans accounting for more than 5 percent of African banks' portfolios.