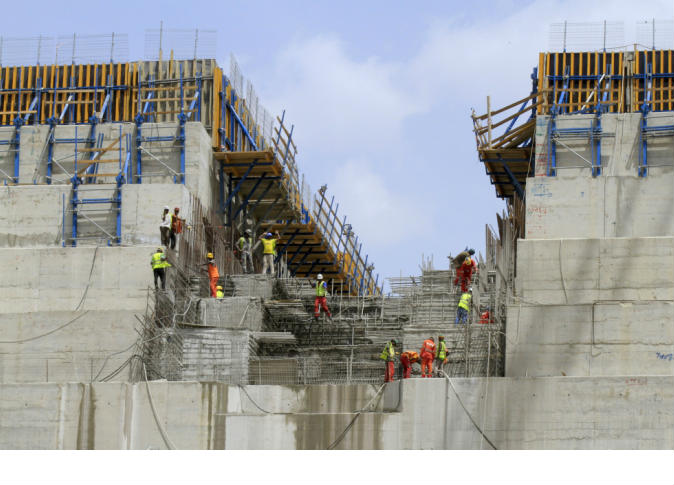 Egyptian Foreign Minister Sameh Shoukry stated on Sunday that Egypt is always ready to reach a point of consensus regarding negotiations on the Grand Ethiopian Renaissance Dam (GERD).
Shoukry said that this consensus should arrive at the earliest opportunity, because there is no room for any party to impose its will on others and create a reality that is not within the framework of understanding, consultation and prior agreement.
His remarks came ahead of a meeting between the irrigation ministers of Egypt, Sudan and Ethiopia which began on Sunday, to resume consultations and negotiations on implementing the principles agreement signed in March 2015 between the three countries.
He added that this meeting comes after an interruption of about a year and three months, a period that exceeded what was planned and left things pending for too long.
Shoukry said that during the past four years, no tangible progress has been achieved on the need to reach an agreement implementing the commitments made in the principles agreement regarding the filling and operating of GERD at the earliest opportunity.
There are also tracks that have stalled, he pointed out, such as the international consultancy studies agreed by the three countries to assess the effects of the dam.
Shoukry expressed hope that these issues would be overcome during the current meetings so that they could quickly resume work again, according to a specific timetable by the end of which an agreement would be reached.
The Foreign Minister stressed that Egypt always emphasizes that it respects Ethiopia's right to development, as long as this does not lead to any serious damage to Egypt.
Shoukry added that Egypt is always open and shows great flexibility, and that it is willing to discuss all aspects as these negotiations are scientific and technical, which should facilitate reaching an agreement as it is based on scientific grounds.
He also expressed his willingness to study all the opinions and ideas discussed in the past.
"We expect the Ethiopian and Sudanese sides to be ready to discuss our ideas and plans in this regard," he said.
Edited translation from Al-Masry Al-Youm