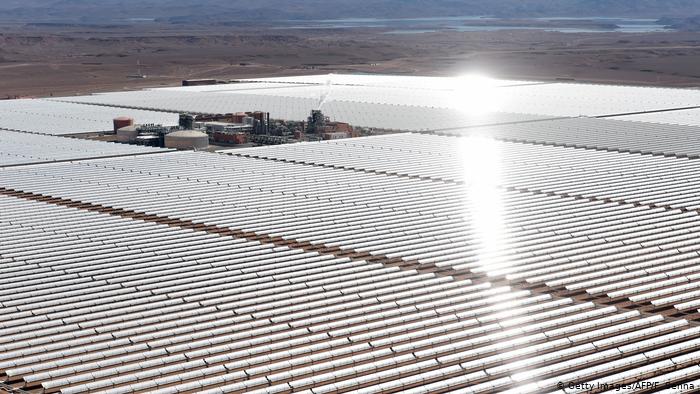 The Minister of Electricity and Renewable Energy, Mohamed Shaker, announced that Egypt aims to reach 42 percent of the contribution of renewable energy in the nation's energy mix by 2035.
He explained that the state's strategy aims to increase the contribution of renewable energy in the electric energy mix, and diversify sources of electric energy production by benefiting from Egypt's natural wealth – especially new and renewable energy sources.
Shaker stressed Egypt's interest in renewable energies through an ambitious plan aimed at increasing the share of renewable energies to reach about 10,000 megawatts by 2023.
This came during Shaker's reception on Sunday with a representative of Alcazar Energy Daniel Calderon to discuss cooperation.
Shaker said that this meeting reflects the ministry's keenness to benefit from advanced experiences in renewable energies
The meeting talked on furthering joint cooperation between the two sides in the field of electricity, new and renewable energy, energy efficiency and green hydrogen.
Shaker reviewed the achievements that the electricity and renewable energy sector has achieved, stressing the sector's interest in spreading the uses of renewable energies, reducing carbon emissions, and increasing the share of private sector participation in these projects.
The minister also stressed the ministry's interest in preserving the environment by raising the efficiency of production units, relying on highly efficient production units, and expanding renewable energy projects.
He noted Egypt's clear richness in renewable energy sources, especially wind and solar energy, which qualifies it to be one of the largest producers of renewable energy.
Calderon praised the great expertise of the Egyptian electricity and renewable energy sector in all fields.
He assured his desire to increase the volume of cooperation with Egypt in various fields, especially in increasing the contribution of renewable energies from the sun and wind, benefiting from green hydrogen as a source of clean energy and water desalination using renewable energies.