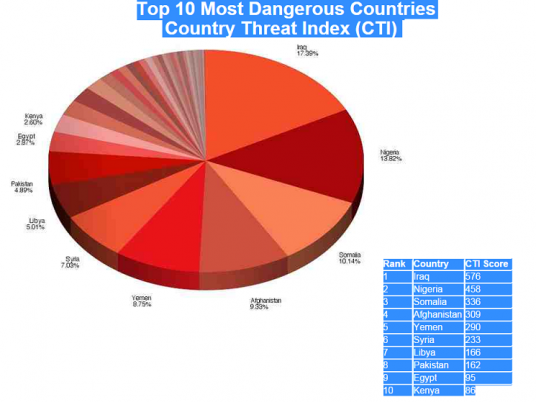 12/12/2014
Muslim countries top on world dangerous country ranking issued by a US think tank including Egypt , US based private firm issued Country Threat Index (CTI) classification.
The think tank Intel Center, which gathers data for US intelligence agencies, declared Egypt 9th most dangerous country of the world in a list CTI, stating most dangerous countries in the world.
The list has been prepared keeping in mind terrorist activities and numbers of causalities in the activities around countries in the world, according to sources today. Iraq is on top of the list, followed by Nigeria on second, Somalia on third.
It is interesting to note that the countries on the list all are the Muslim countries. War torn hit Afghanistan on fourth, Yemen fifth, Syria, Libya on sixth and seven. Pakistan declared on 8th number on the list and Egypt and Kenya on 9th and 10th position.
The US think tank has ranked the countries on basis of points which were counted with the reference of terrorist and rebel alerts, messaging traffic, videos, photos, incidents and the number killed and injured. The ranking is generated from events happened in last 30 days.