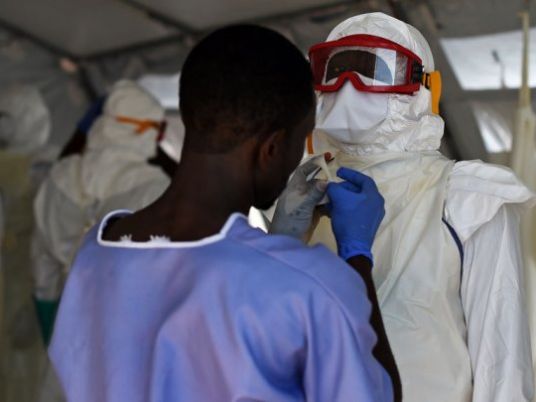 The number of new cases of Ebola rose in all three of West Africa's worst-hit countries last week, the World Health Organization (WHO) said on Wednesday, ending several weeks of encouraging declines across the region.
Suspicion of aid workers, especially in Guinea, and unsafe local practices were continuing to hamper efforts to halt the deadly virus, the United Nations agency said.
"An unsafe burial that took place in early January in the (Guinean) eastern prefecture of Lola, on the border with Côte d'Ivoire, has so far resulted in an outbreak of 11 confirmed cases," it said. Investigators had been initially rebuffed by the local population, it added.
Mourners have caught the haemorrhagic disease in the past by touching the highly-contagious bodies of dead loved ones, sometimes by laying hands on them to say goodbye.
The WHO said a week ago that there had been 99 confirmed cases in the week to 25 January, the lowest tally since June 2014, raising hopes that the tide might have turned.
But its new figures, for the week ending 1 February, showed the first recorded rise in new cases across all three countries this year.
Sierra Leone, the worst hotspot, accounted for 80 of the 124 new cases of the disease, Guinea recorded 39 while Liberia had just five, all near the capital Monrovia, the report said.
Nearly one third of Guinea's 34 prefectures had reported at least one security incident or other form of refusal to cooperate with health workers in the previous week.
Villagers are often alarmed by the approach of aid workers wearing space-age protective equipment and have resisted efforts to find cases, isolate those infected and chlorinate homes.
Meetings were planned between authorities from Guinea, Mali and Senegal to strengthen disease surveillance, the WHO said. A rapid response team has deployed in the border area with Ivory Coast, it added.
The WHO said there was an urgent need to step up efforts before the start of the April-May rainy season, when downpours can block roads and make it difficult for health teams to travel.
In all, 8,981 people have died of Ebola out of 22,495 known cases in nine countries since the outbreak began in December 2013, according to the agency.