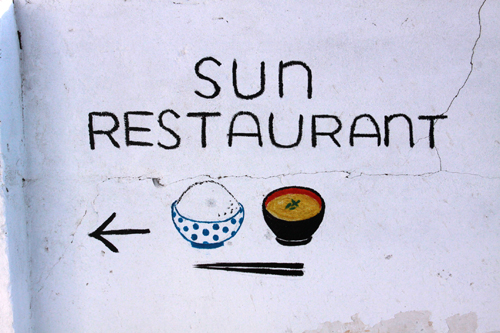 On the rooftop of the Seven Heaven Hotel in Dahab sits the Sun Restaurant, where every morning Kaori Kubo wakes up to a view of the sea and sun, a pack of cigarettes and two dogs who have come to adopt her. At 6 am, most tourists are fast asleep after a night out at a beachside bar, or from a rewarding but exhausting evening dive, but the 63-year-old Japanese woman isn't a tourist — at least for now.
Kaori opened the Sun Restaurant nine months ago, where she prepares homemade donburi, the quintessential Japanese rice bowl, and other dishes popular with the hotel's predominantly Japanese guests.
"Everywhere I go I cook for myself. And every day when I wake up, I make miso soup, and the Japanese tourists would smell it and come and want to eat. I couldn't say, 'No, you can't eat!'" she says.
In her former life, Kaori was a professional pianist who studied musicianship at a conservatory in France and traveled across the globe to perform for recording studios and live audiences. When she was about 50, however, she broke her fingers, ending her career, and took up fishing in the Tokyo Sea. Then she opened a successful Tokyo restaurant that lasted 15 years, up until her retirement two years ago. After retiring, Kaori left Japan for an Egyptian and European holiday.
Today, Kaori has yet to make it through the European leg of her holiday. The 25 January revolution held her down last year, and she decided to stay in Dahab and open up a small cafe on top of the Japanese hippie hub.
For years, the Seven Heaven Hotel had been a top recommendation by Japanese travel guidebooks for its affordable lodging and diving packages. Every day, busloads of Japanese tourists check in at Seven Heaven, with some guests staying for weeks. The most recent addition to the hotel, Kaori's restaurant has become not only a vendor of tummy-warming miso soup and the comforts of a home-away-from-home for the Japanese backpacker, but also a budget option for those traveling on a shoestring. The Sun Restaurant staff is made up of long-term globetrotters-turned-temporary volunteers.
"I thought because they have only little money and are traveling a long time, it would be a good idea to have them volunteer. If food is covered, they are okay," says Kaori.
Currently, there are four Japanese volunteers and a paid cook working with Kaori, people like Gempachi Tanaka, a 24-year-old medical student on a gap year completing a world tour. Since April, he's been through continental Asia and plans to cycle across Europe in a few weeks.
"I met a tourist in Jordan who told me about this hotel and the volunteer opportunity. Going around the world, I need to save money and I was on my way to Dahab," Gempachi says.
Chisato Taki, 25, quit her job as a kindergarten teacher in Japan to travel for a year around the globe, but unlike Gempachi, she doesn't intend on returning home.
"Eventually, I will go to India and start a Japanese guesthouse in Delhi. I love India, and I want to change its image for Japanese tourists and make it popular for them to go and see," Chisato says, adding that her experience volunteering under Kaori's tutelage would help her in preparing and managing her own business.
Kaori's laidback nature creates a family-style atmosphere where work isn't a chore. The volunteers participate in every aspect of the restaurant including shopping, food prep, cooking, waiting, dishwashing and hampering the occasional Dahab dog-cat chase — all for three quality meals a day. For the rest of the day, the volunteers are free to take in the sea air and the town's amenities.
While staying at Seven Heaven and sharing stories with Japanese tourists and volunteers, we happily sampled Kaori's offerings: mostly deep rice bowls topped with a helping of sautéed onion and your protein of choice, mainly fish, chicken and pork — yes, pork.
A few times a week, Kaori drives up to Cairo to shop for Japanese delicacies and pork from Coptic butchers. Luckily, at the time of sampling, they had one serving left of the pork katsu don (LE45), which quickly disappeared. A pork cutlet is fried, then smothered in a creamy onion-based sauce. The meat was tender and cooked through. Equally flavorful was the chicken and egg version (LE30), a combination that sounds like sacrilege but is a good alternative to the classic pork variation.
Whether grilled with shrimp and vegetables (45LE) or served in a soup with tempura vegetables (35LE), soba noodles, made of buckwheat flour, are a Japanese mainstay that satisfies our bellies.
But what tops Kaori's recipes is imported directly from her native land. Like the classic American fried chicken, Kaori's Japanese fried chicken (40LE) is golden and crisp, but unlike the Western version, hers holds a lighter, puffy batter and is best devoured with a mound of steamed white rice and dots of Kaori's mayonnaise, which is homemade just like her ketchup.
Sushi is also available depending on the day's catch, usually brought by Bedouin fishermen. But don't expect elaborate plates of Westernized sushi — battered, fried and stuffed with cheese. The maki rolls are simple, but reliable and packed with wasabi — as Kaori likes it.
Sun Restaurant isn't a typical Japanese eatery where shirts and shoes are required. Rather, it's best to feel at home in Kaori's home. The simple, yet cozy rooftop setting is casual and features colorful cartoon sushi and foods hand-painted by volunteers. The floor-level seating is just steps away from the pebbled shore.
Whether enjoying a beverage or smoking, Kaori is usually present with her laptop and everyday knickknacks spilled across a wooden table, and is eager to meet and talk. She couldn't care less about a review of her restaurant or a flock of customers flooding in. She's happily retired, she says. But, true to her passions of fishing, cooking and piano-playing, she's now settled on the Red Sea and sharing her kitchen's secrets with travelers just like herself.
This piece was originally published in Egypt Independent's weekly print edition.