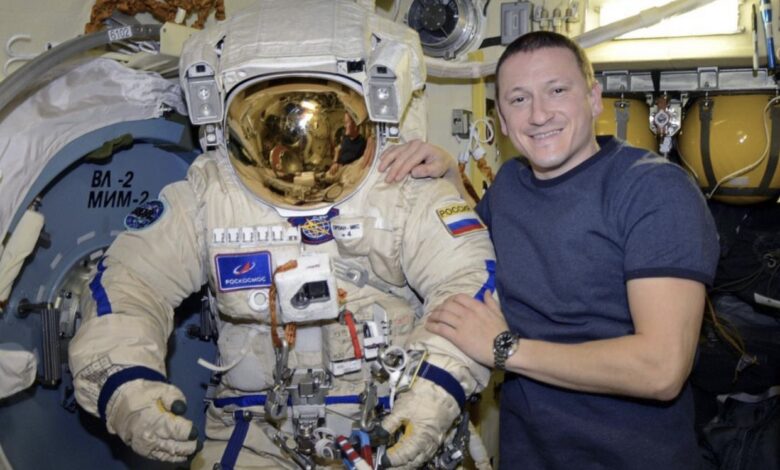 Al-Masry Al-Youm's Khaled Elshamy sat down for an interview with Russian astronaut Sergey Kud-Sverchkov, where they broached a variety of topics including Kud-Sverchkov's early career, how his time in space has changed his view of the world, Russia's usage of space technology, and even his thoughts on Mohamed Salah.
Kud-Sverchkov hailed Egypt as a friend to Russia, and has noted also Egypt's recent strides in the space field – a fact which sparked his interest in visiting aiming to spread awareness of its scientific institutions.
The astronaut touched on the most important conditions required to be an astronaut. Good health, he says, comes at the top as astronauts will suffer from weakened muscles in the void of space and must maintain them through rigorous exercise.
After all, the astronaut noted, Earth is mankind's only true home.
"Ever since I was a university student, I dreamt of being an astronaut," Kud-Sverchkov said, stressing that "This special specifications and skills for anyone who wants to work in this field. After I graduated from the Technical University in Moscow with distinction, I worked in an engineering company that manufactures missiles and energy, and then my desire to work harder was born."
"I applied in 2010 to join the astronaut teams, and the practical training period took 10 years until I went up to space in 2020," he added.
This line of work requires training with a high degree of accuracy and the ability to function under emergency, Kud-Sverchkov said – traits which allowed him to reach the International Space Station after 185 days.
"For anyone who dreams of being a pioneer, it requires a love of work, education, passion, ambition, imagination and curiosity, alongside being in excellent health condition."
Everyone up in space is careful to pay close attention to both their physical and psychological health, with rigorous tests in place to monitor their condition.
Yet even after returning home to Earth, the cosmonaut said he was constantly tired and his body needed to acclimate back to normal.
Russia uses the information gathered by the the International Space Station to monitor agriculture and the climate, the astronaut said, which it can then use to issue emergency warnings about the arrival of storms and protect forests.
To Kud-Sverchkov, Earth is "everyone's home".
His fellow astronauts, no matter what they are from are his colleagues, and his time out in the void of space has taught him the true value of Earth as their home – and the importance of preserving it.
"When you see the planet Earth from space, you feel that it is a 'living being', so we follow the movement of the eruption of volcanoes, the flow of rivers, and the movements of rainy clouds," he explained.
"One of our tasks is to discover space from above, as well as the possibility of life on other planets, yet planet Earth is the most beautiful."
He added that they closely study Mars and the Moon as well.
When asked on his specific reasons for visiting Egypt, the astronaut said he took interest in a new projected titled "Russia, Africa – We build a future together."
He stated that Egypt, and Africa at large, is important to Russia and added that he has already visited several African countries.
Egypt is an old friend to Russia, and so his delegation was eager to visit its scientific and university institutions to spreading awareness about Russia's capabilities in space and technology – in conjunction with Russian Victory Day celebrations and the establishment of 80 years of diplomatic relations with Egypt
The cosmonaut praised the impressive strides Egypt has made in the field of space through building the Egyptian Space Agency, and said that he feels Egypt should take further steps into space technology.
"Any country that desires development and progress must show interest in this field, and there are great opportunities for cooperation between Egypt and Russia, which has the technology available" he stated.
Amongst other hobbies, Kud-Sverchkov has an interest in photography and said he has photographed his childhood home in Russia alongside the homes of his relatives.
He says that Egypt looks 'wonderful' from space, where he has photographed the Pyramids and High Dam amongst other famous places such as Al-Aqsa Mosque, the Himalayas and the Kaaba which he says looks "pointed" from up above.
"The Makkah Al-Mukarramah appears luminous in the sky because of the white stone," he noted.
Regarding soccer player Mohamed Salah, he said that the player is a well known public figure. And he, definitely, heard about him, but he is not a football fan, because he usually doesn't have time to follow sport news.