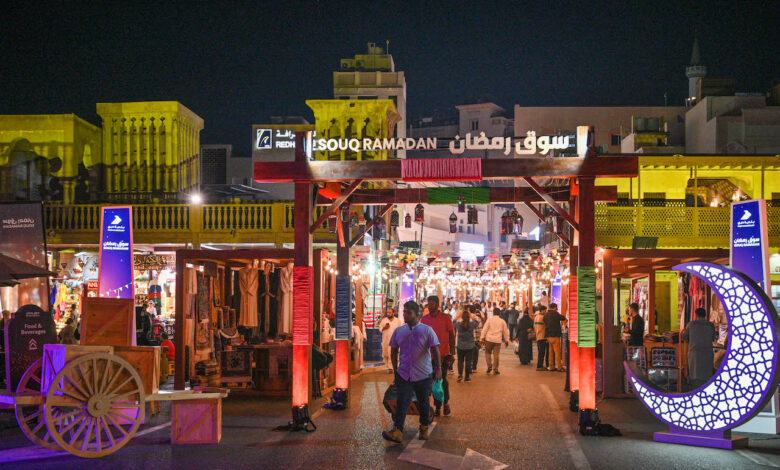 Dubai is celebrating Ramadan this year with an array of festivities and events, hosted by the the Dubai Festivals and Retail Establishment (DFRE) from March 23 to April 21.
The CEO of DFRE, Ahmed al-Khaja, said that "Ramadan is a unique time of year when we can reflect, appreciate the blessings of life and create special memories with family and friends. "
"This Ramadan in Dubai, everyone is welcome to our great city to enjoy cultural moments and experience the sense of togetherness that is felt throughout the Holy Month. Working with our partners across the government and private sectors, we have created a programme of exciting events and activities, exquisite gastronomy, and world-class entertainment, that will make Ramadan in Dubai a month to remember," he explained.
"It will bring people together, celebrate our heritage and culture with friends and family, and provide opportunities for acts of charity and generosity."
Several of the events at display this year include Ramadan markets, family entertainment, a Dubai cityscape transformed by festive lighting, and retail discounts and offers.
Dubai's transformed cityscape
This Ramadan, Dubai will be transformed with lighting installations adorning the city's landmarks, trees, roadsides, and shopping destinations.
Some of the city's most famous landmarks, such as Dubai Frame and Ain Dubai, will light up for Ramadan including a special projection at Ain Dubai.
Additionally, there will be a daily 'Imagine Ramadan Projection' at Festival Bay in Dubai Festival City Mall, and a 'Ramadan in Dubai Reflections' immersive building projection accompanied by lanterns lighting the way at Al Seef (March 23 -April 22) and Al Habai Mosque (March 28 – April 10).
The Nakheel Mall, Ibn Battuta Mall, and Circle Mall will have intricate hanging ornaments, multicolored motifs, and small majlis social spaces to enjoy.
The 'Ramadan Fireworks Nights' displays will also light up the skies on April 1 at The Beach, Bluewaters and JBR, on April 8 at Al Seef, and on April 15 at Dubai Festival City Mall.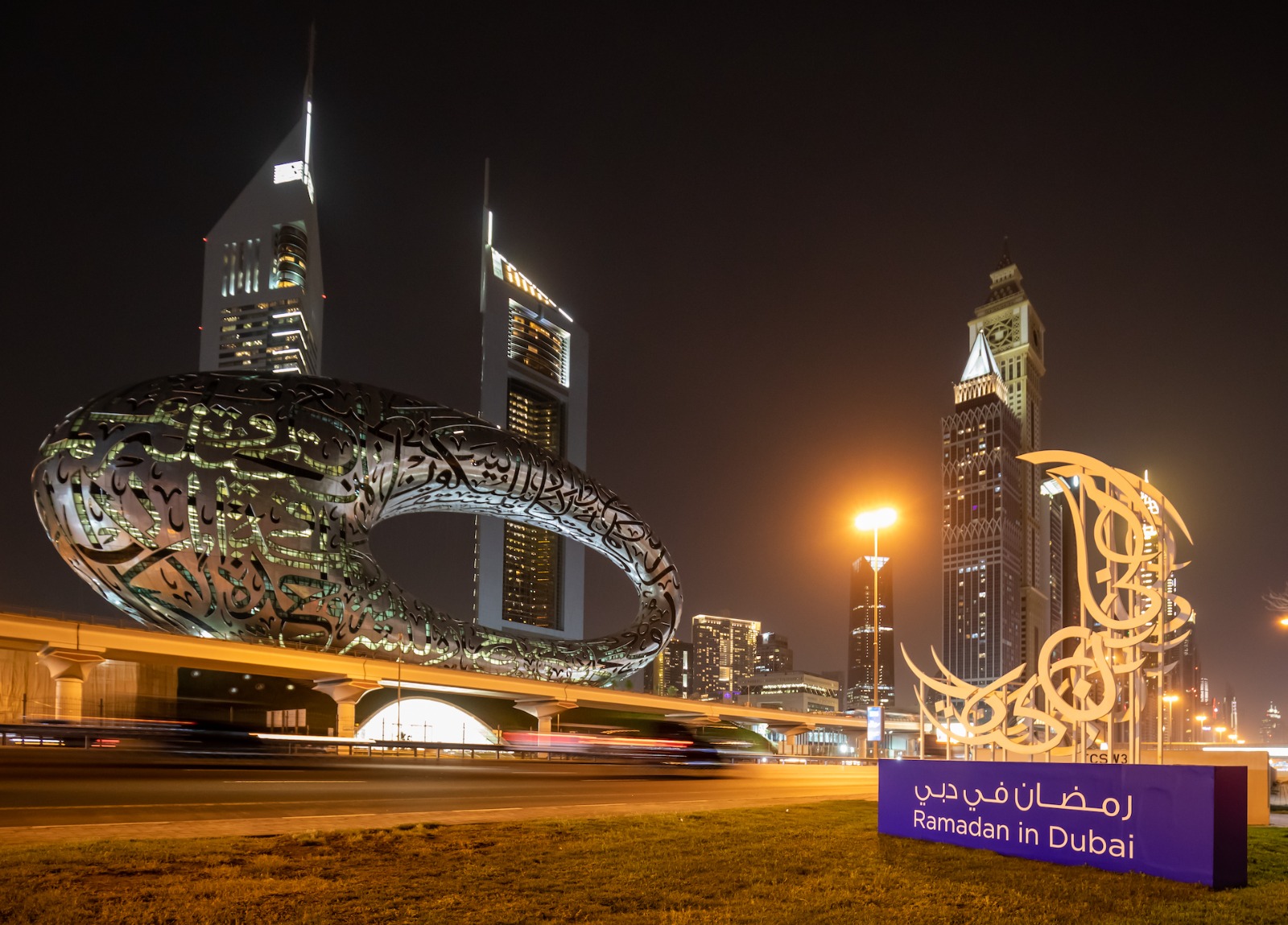 Festive Dubai Ramadan Markets
Dubai's popular Ramadan Markets are a great opportunity to experience the traditional Ramadan atmosphere and culture. Usually held in large air-conditioned tents or indoors at shopping malls, these markets offer a wide range of products such as food, clothing, home decor, and gifts.
Starting March 22 to April 21, the Oasis Mall will host the Ramadan at Oasis market from 10 am until midnight.
From March 22 to May 1, the Hatta Hub offers a place to relax and sample international cuisines, browse retail outlets, and entertainment shows in the evenings. Also in that period, the Al Barsha Pond Park is hosting the The Al Barsha Park Ramadan Market.
Ramadan tents
During Ramadan, many hotels, restaurants, and venues in Dubai will set up large, air-conditioned tents or temporary structures where people can come together to enjoy Iftar and Suhoor meals.
These Ramadan tents are typically decorated with traditional Arabic décor and offer a variety of food options, including Arabic and international cuisine. They also feature live entertainment such as music and cultural performances.
The Dubai Opera will offer a buffet with Arabic and international cuisine, while Asateer in Atlantis the Palm will offer traditional Iftar and Suhoor.
The Bulgari Ramadan experience will offer live food stations and live entertainment for Iftar and Suhoor, while the Habtoor Grand Resort Autograph Collection and City Walk's Dana Tent will have outdoor Iftar and Suhoor options.
The Four Seasons Resort Dubai at Jumeirah Beach will also provide Iftar and Suhoor options at several of its restaurants, while Carna by Dario Cecchini will offer Iftar on the 74th floor of SLS Dubai.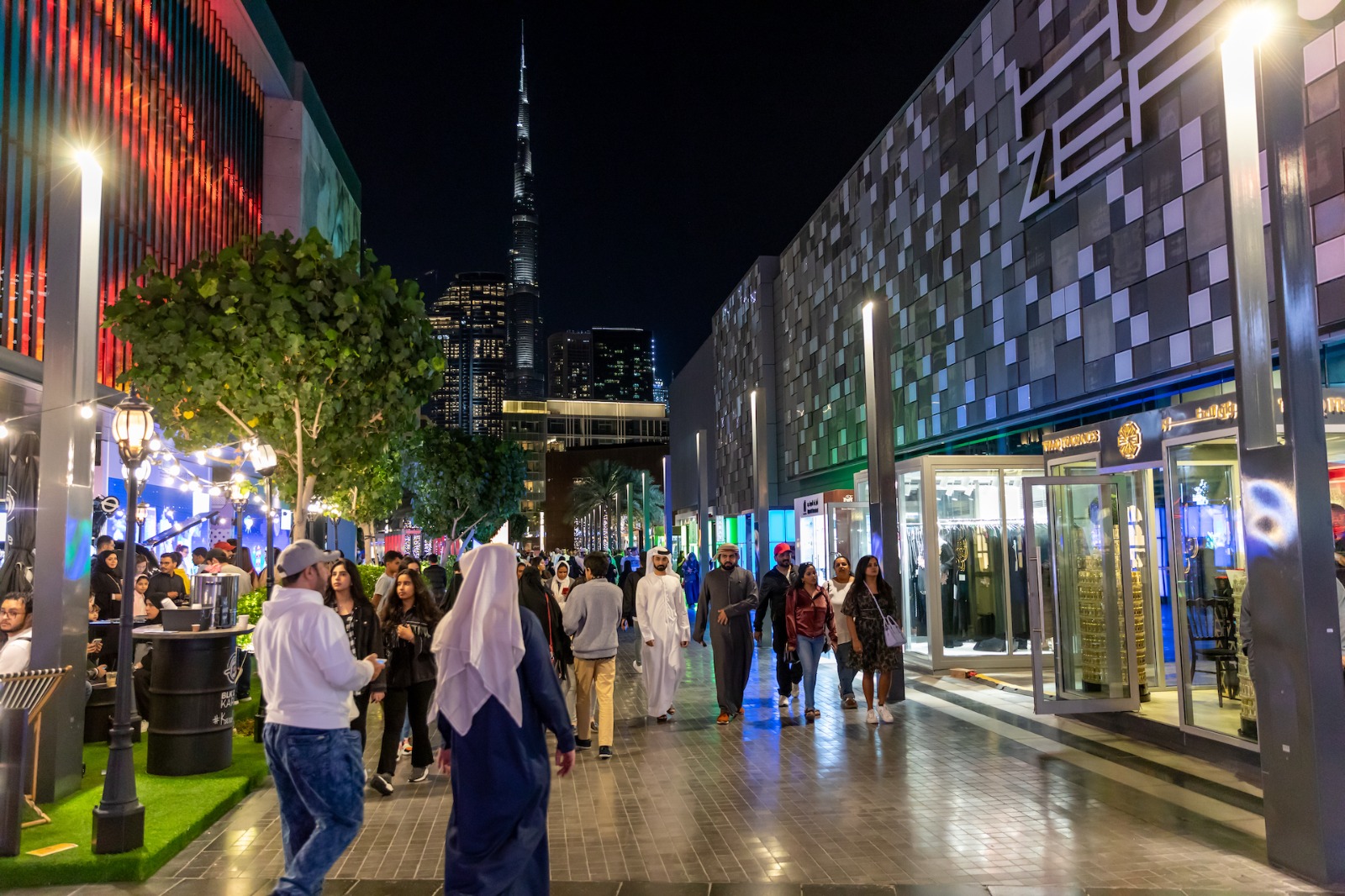 Gastronomy experiences
Offering a one-of-a-kind culinary experience, the Ramadan Street Food Festival will take place from March 31 to  April 9.
The vibrant streets of Sheikh Hamdan Colony, Al Karama, will offer an array of authentic and traditional foods during Iftar and Suhoor.
Charity events
Expo City Dubai will also host a charitable initiative in the form of Hattan, a collection of clothing donation boxes that have been decorated by young artists from schools in Dubai with paintings inspired by the city's culture and traditions.
The boxes will be available for donations from March 22 to April 22.
Dubai Mall awards
The Dubai Festival City Mall will offer special rewards to shoppers, including tickets to Bounce X, access to Glowland, an Al-Futtaim gift card, besides the opportunity to win AED200,000 for users of its Blue App.
Visitors to the mall can check out the Zehi Exhibition, which will feature local businesses offering a range of curated products such as abayas, perfumes, jewellery, and home accessories.
Families can take their children to AstroLab in Nakheel Mall, where they can participate in free space, science, and art workshops from March 24 to April 16. The Mad Scientist will also put on two 45-minute shows five pm and 8:30 pm, 31 March to 2 April).
Visitors can also enjoy food and beverages offered by Hint Café at the exclusive Ramadan Majlis.
Amazing artwork and storytelling
From March 24 to April 16, visitors to Nakheel Mall can view the work of Emirati artist Azza Al Qubaisi at the Nakheel Mall Gallery Exhibition.
Some of the artworks on display will include "The Abaya", "Between the Dunes", and "Seven Falcons".
In addition, visitors can enjoy live traditional entertainment, including oud and qanun players and pianists, after Iftar every weekend between March 24 and April 23.
Ramadan will be celebrated every weekend at Freej Al Khawaneej in Al Khawaneej Walk and Last Exit Al Khawaneej. Community members there can enjoy traditional celebrations and a host of activities, such as live music, free kids activities, Hakawati storytelling, and Ramadan quizzes from March 24 to April 16.
Al Seef will host Ramadan Art Nights & Lights from March 23 to April 22, featuring a Ramadan street market, dining options, striking art and lighting installations, live music, Ramadan quiz nights, storytelling for kids and fireworks display.
Fantastic events
And from March 23, 30 lucky patrons who review their dining experience at restaurants in City Walk, The Beach JBR, and La Mer will have a chance to win a flight to Dubai.
A new pop-up dessert market will open at City Centre Mirdif during mall opening hours from March 22-April 23.
The market will feature unique and creative Ramadan-themed desserts from local and homegrown brands, providing visitors with new F&B experiences.
Mall of the Emirates will host the Ramadan market activation, Zeman Awwal, available both online and in-person ( March 22 – April 25).
Every Tuesday this Ramadan, visitors can attend the Ramadan Talks, held in the Zeman Awwal Majlis Cinema, covering topics such as Ramadan etiquette, healthy F&B habits, modest fashion, and more.
Bluewaters will offer a range of activities and authentic Emirati hospitality every Friday, Saturday, and Sunday between March 23 and April 21.
Visitors can enjoy a photo booth with traditional props and clothing, a free henna session, and performances by oud or qanun players.
Great discounts across Dubai
The Great Online Sale from April 14-16 will offer up to 95 percent discounts from a range of stores spanning fashion, optics, kids, home improvement, and more, offering residents and visitors a great opportunity to buy gifts in advance for Eid Al Fitr and explore a new online shopping experience.
Ramadan Entertainment events
The Coca-Cola Arena will host British comedian Jack Whitehall on April 15 for a night of wry anecdotes and animated observations in his signature style.
From April 6-18 visitors to Al Marmoom Heritage Village can celebrate Emirati culture and experience preserved Arabian traditions at the Al Marmoom Heritage Festival.
With almost two weeks of entertainment, the festival offers daily camel races, live concerts, and international dance shows.
Ramadan Wonders at Global Village will offer the perfect place for a night out with family and loved ones. Visitors can enjoy the Ramadan Market, Majlis of the World, and a variety of delicious cuisines for Iftar and Suhoor.
On March 24 and April 14, the Theater by QE2 will host the Mind2Mind Connected mentalism show, featuring Dubai-based couple James and Marie, who won the golden buzzer on Ukraine's Got Talent and performed at America's Got Talent.
Starring actress Chulpan Khamatova and Latvian pianist Andrejs Osokins, "Play: Dreams About The Grand Piano" is a combined act of poetry and music presented at the Theatre at Mall of the Emirates on 23 March.
Movenpick JBR will host a special performance by Rob van Vuuren on 25 March, presented by the Selfdrive Laughter Factory.
Fitness and Sports
Dubai will host a variety of fitness and sports activities during the month of Ramadan to encourage physical activity and promote a healthy lifestyle.
The Polo Masters Cup, a six-day event part of the globally-recognised Dubai Polo Gold Cup Series, will be held at Al Habtoor Polo Resort and Club from April 3 to 8.
The six to eight goal handicap championship event will be held under the patronage of Deputy Prime Minister and Minister of Finance of the UAE. Sheikh Maktoum bin Mohammed bin Rashid Al Maktoum,
On April 8, Jebel Ali Racecourse will host the Night Spartan Trail, an off-road endurance challenge. Athletes and sports enthusiasts can participate in the Nad Al Sheba Sports Tournament at Nad Al Sheba Sports Complex on April 13.
Running, cycling, padel tennis, jiu-jitsu, volleyball, and wheelchair basketball are among the six categories in which participants can compete.
The GRIT+TONIC Relay Triathlon is open to participants aged 12 and above, who can compete in teams of two or three. The event will take place at Al Mamzar Beach Park, featuring multiple challenges such as swimming, biking, and racing.
Ramadan fitness activities will take place citywide as well to encourage fitness.
These include a Padel Tennis Tournament on March 26, Night Runs at D3 on March 27, and the Desert Road Runners Iftar Challenge in Dubai Autodrome on March 30.
On April 1, families can participate in the Spinneys Family Fun Run Series together in Al Furjan Pavilion Mall.
The Dubai Offshore Sailing Club will also host several events such as Offshore Sailing Series on April 1, Kite Sailing on April 1 and 2, Wednesday Night Pursuit Race on April 5, and the Keelboat Commodore's Cup on April 8.