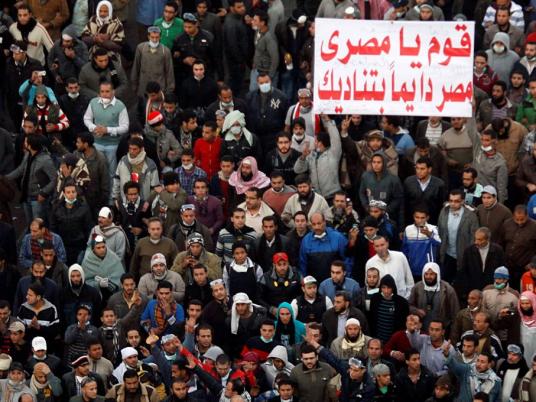 Dozens of activists protested on Sunday at the Suez Military Prosecution building, demanding the release of eight civilians who were detained after clashes in front of the city's police department in April.
The clashes coincided with violence that broke out during demonstrations in the Abbasseya neighborhood of Cairo.
The eight civilians were tried in military courts after the clashes and received prison terms ranging from six months to three years.
Protesters also called for the release of Bassem Mohsen, who was arrested last Monday after clashes around the military prosecution building, and the release of all civilians who have been detained in military prisons since the beginning of the 25 January revolution.
The protesters — mostly activists from the April 6 Youth Movement and the Suez Youth Bloc — chanted "Down with the military rule" and "O military police, our brothers are not thugs." Protesters also bore banners with the slogans "Freedom for young detainees of Suez" and "Free Bassem Mohsen."
Edited translation from Al-Masry Al-Youm