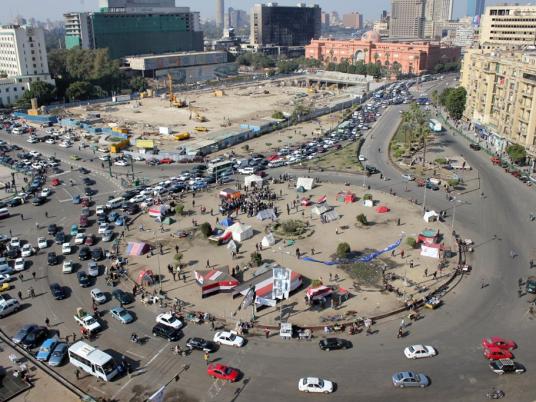 Dozens of Egyptians gathered in Tahrir Square on Friday to protest military rule and demand that power be handed over to civilian forces as soon as possible.
State media reported Thursday that a new coalition allegedly including Supreme Council of the Armed Forces (SCAF) supporters and anti-military protesters called for a protest dubbed "Friday of Reunion."
Fifteen political parties and 135 youth groups announced the creation of the Egyptian Forces Coalition at a press conference on Tuesday, according to Al-Ahram newspaper.
The makeup of the new coalition is unclear, especially after the 25 January Revolution Youth Coalition and the Silent Majority group denied links to the coalition.
The 25 January Revolutionary Youth Coalition refused to participate in Friday's demonstration, and the Silent Majority group, which has organized pro-SCAF demonstrations in Abbasseya, said the call was made by "unknown" people.
"We reject the call they have made under the slogan of 'Friday of Reunion.' Our protest is dubbed 'Friday of the Continuing Revolution,' and we will align ourselves with SCAF supporters and the protesters from Abbasseya," Gomaa Mohamed Ali, a member of the 25 January Revolution Youth Coalition, said during Friday prayers in Tahrir Square.
"The military council has no intention of meeting the demands of the revolution. Moreover, its management of the country has failed," said Ali.
Ali demanded that military forces that have killed protesters be punished.
He stressed that people should not confuse demands for the removal of the ruling military council with a desire to dismantle the Egyptian military establishment completely.
"We do not want to topple the military, which protects the country, but we want to overthrow the military junta," Ali explained.
"The Interior Ministry is still playing around. Torture is still happening in police stations. The ministry needs to be restructured," Ali said.
Protesters chanted: "Down with the military rule," "Revolution, revolution until victory," "Revolution in all the streets of Egypt," and "I can hear the mother of the martyr saying, 'The military killed my son.'"
Protesters set up tents in front of the Mugamma for the first time since military forces evicted demonstrators and burned their tents during the brutal crackdown on the sit-in outside the cabinet building in mid-December.
Translated from Al-Masry Al-Youm