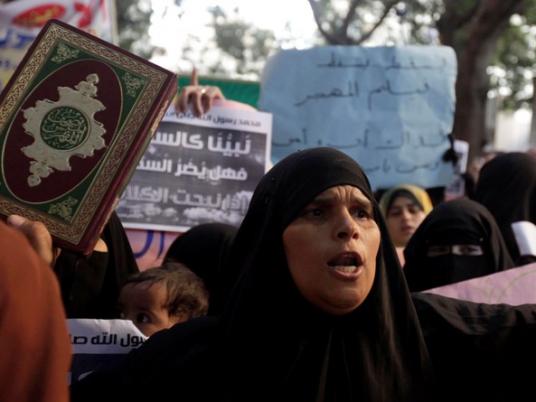 Dozens of protesters gathered in front of the French Embassy in Cairo, located on Murad Street in Giza, Friday afternoon to denounce cartoons mocking the Prophet Mohamed that were published by the satirical French magazine Charlie Hebdo on Wednesday.
Hardline conservative parties including the Salafi Front, Hazemoun and Jama'a al-Islamiya had called for today's demonstration.
Security forces closed all the roads leading to the embassy and cordoned off the building. Giza Governor Ali Abel Rahman told Al-Jazeera Mubasher Misr at the scene that the streets would be reopened for traffic after the protest. He also praised the peaceful nature of the demonstration.
Al-Masry Al-Youm reported that dozens began a march at Omar Makram Mosque near Tahrir Square that then headed to the French embassy in Giza. They chanted slogans denouncing what they called the repeated insults against the Prophet Mohamed.
Some of the protesters raised banners calling for the boycott of American and French products.
Ayman Amer, a coordinator of the march, said that President Mohamed Morsy hadn't done enough to respond to these insults.
Islamic forces have been divided on today's demonstrations. The Muslim Brotherhood and its political branch the Freedom and Justice Party, the Salafi Nour Party and the Asala Party announced they would not take part in the protest to avoid any repetition of the events at the US embassy last week. They added they would submit a formal protest to the French embassy about the cartoons.