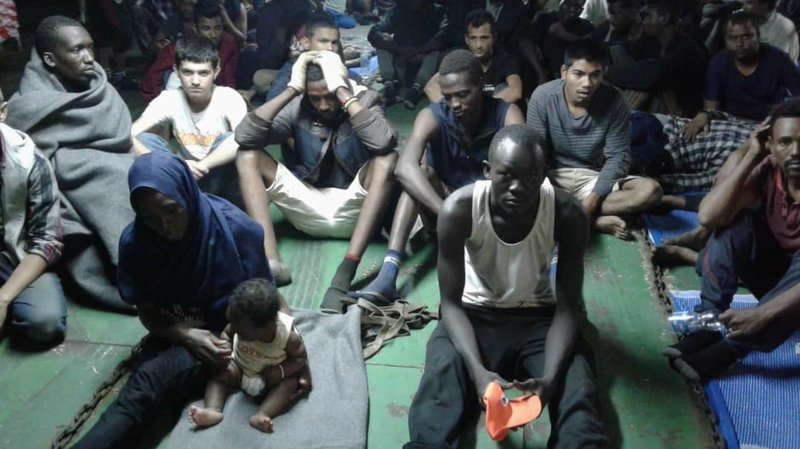 Dozens of migrants have barricaded themselves in a container ship in the Libyan port city of Misrata for the past five days, after being picked up at sea, and refuse to disembark, saying Libya is too dangerous for them.
Loaded with cars, the ship Nivin was already bound for Misrata when it picked up 93 migrants in a foundering raft in the Mediterranean Sea late on Friday and continued toward its destination. Two of the migrants agreed to leave with the Libyan coast guard, but the others refused, saying Libya was deadly for migrants and they wanted to go to Europe.
They have been in the Misrata port ever since, with the captain and crew taking refuge on the upper decks.
One of the migrants, a man from South Sudan reached by The Associated Press on the ship, vowed on Wednesday to reach Europe or die trying. He said six commercial ships passed his group before the Nivin finally stopped.
Libya's coast guard had no immediate comment on the situation.
With just one rescue ship patrolling the Mediterranean, and European ports refusing to take in rescued migrants, commercial ships have become increasingly leery of picking up people in the sea. Repeatedly in recent months, they have found themselves caught in the middle between governments hostile to new migrants and an obligation under international maritime law to save
The man, who identified himself only by his name, Victor, fearing for his safety, said he himself had already been imprisoned repeatedly in Libya and that his own brother had died there. He had no intention of returning, he said.
"We don't want to go out in Libya," he told The Associated Press. "You can come and take my dead body outside."
Julien Raickman, who is the head of the Doctors Without Borders mission in Libya, said Europe's policy of refusing to take in rescued migrants has led to a spike in deaths. Now one in five who cross perish at sea, he said.
Raickman said the Libyan coast guard has given international organizations access to the migrants, who have food and some degree of medical care now, but no toilets or other sanitary facilities. The ship's cargo of cars was peacefully unloaded, but the migrants remained unmoved.
"We're afraid that this dispute will end in violence. The people who are on board are determined. They know that they went far and could face charges for taking control of a boat," he said. "But these are people motivated by despair."